Daphne Odjig
Pow Wow at Wikwemikong
Marie Lugli, August 6, 2018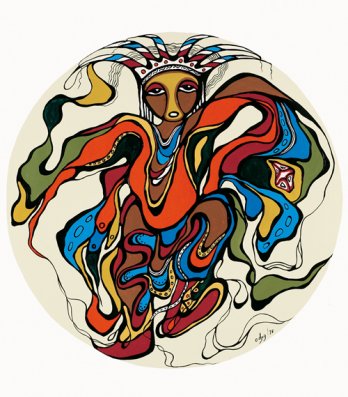 Daphne Odjig 2/Pow_Wow Dancer. 1978_Private collection
Odjig would come to create legend paintings, history murals, erotica, abstractions, and landscapes using a range of techniques and materials but settling on acrylic as her medium, the one she would push hardest and furthest. The result: an oeuvre and a voice that cannot be characterized as purely Aboriginal, Canadian, or European in influence. Her work is now in private and public collections across Canada. Odjig is a member of the Order of Canada and widely considered the "grandmother of Aboriginal art" in this country. She ran an Aboriginal art gallery in Winnipeg for many years, and founded the short-lived but influential group known as the "Indian Group of Seven," which counted Morrisseau, Carl Ray, and Alex Janvier among its members.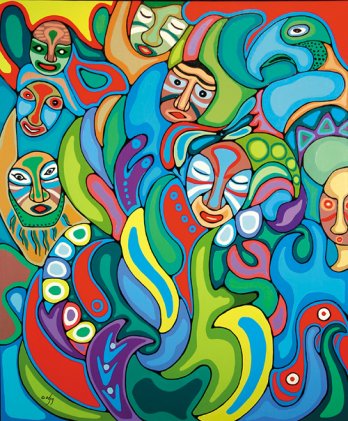 Daphne Odjig 2/Défilé solennel, 1989_Thunder Bay Art Gallery Collection
For Odjig, true artistic freedom arrived as the 1970s came to a close. "She began to exhibit work that didn't necessarily speak about either her 'Indianness' or the history of her people, but about her feelings as a human being," says Bonnie Devine. This evolution can be seen in such works as Two Ladies Quilting (1982). "There's a thematic shift here, a different visual language," says Devine. "The space is metaphoric. The geometric shapes spread over the picture plane suggest people pulling together disparate elements and creating something cohesive."
It's the line, of course, always the last element applied to an Odjig, that brings it together in the end, and that Devine wishes she could extract from the paintings to see what tales it might tell on its own. But perhaps divorced from the interiors and colours it encloses, the line would lose its power. Odjig once said that the line brings her paintings to life. "If you looked at my painting before I got my formline on, you probably wouldn't distinguish what I'm doing. But by the time I got my formline on, everything is in balance, and it's there." Without the pieces of the painting – the pieces of life – to connect, the line has nothing to accomplish, nowhere to go. Odjig must know this better than anyone.
www.gallery.ca