The Mikou Design Studio
Twenty things about Salwa & Selma Mikou
Zanoah Bia, November 23, 2015
Mikou Studio_Lighthouse Tower RIO
E.D.: What do you consider your influences, what inspires you?Selma Mikou:
Everything inspires me. When I am designing a building, I am obsessed by it, and I see it everywhere. What inspires me most is walking in a town at night. The sensuality and magic of shadows, the mystery of volumes, and the sound of footsteps on a pavement. The town is our last space of freedom.
Salwa Mikou:
There are conscious and unconscious influences. For me, the endless source of images and emotions is my mental heritage linked to my childhood in Fez. It doesn't matter of these images are real or if they are distorted by time. The design scheme is an addition of beliefs, of images and of dreams. I feel very close to designers whose discourse goes beyond their area of competence. I'm thinking of people like the film-maker Abbas Kiarostami, the fashion designer Hussein Chalayan and the choreographer Sidi larbi Cherkaoui.
E.D.: How would you explain architecture?Selma Mikou:
The built relationship with geography and the history of thought.
Salwa Mikou:
First and foremost, it is an act of generosity. Above and beyond fleeting styles, all that remains is the force of the feeling conveyed by the intrinsic qualities of the built space: its proportions, its light and its materiality.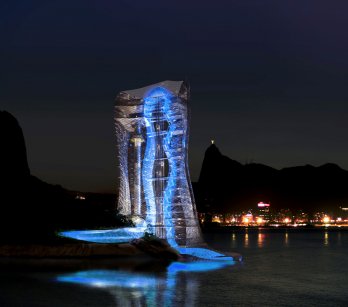 Mikou Studio_Lighthouse Tower RIO
E.D.: Your favourite materials in architecture and why?Selma Mikou:
I don't have any favourite materials. Every context requires its own truth.
Salwa Mikou:
I like materials that have several lives, which reveal themselves over time. But most of all, I like the contrast between two materials, between warm and cold, or between matt and gloss. The secret is in contrast.
E.D.: What does the word ecology mean for you?
Selma Mikou:
The economy of the planet's resources.
Salwa Mikou:
The rational and sensitive use of an area's resources.
E.D.: And chic, what do you feel it is?Selma Mikou:
The balance between what one says and what one does not say. The room that we allow for others.
Salwa Mikou:
It is the dignity of a standpoint: seriousness enhanced by a flash of fantasy.
Mikou Studio_Lighthouse Tower RIO
E.D.: Which architect / designer or artist do you admire most?Selma Mikou:
The artists Anish Kapoor and Ai Wai Wai . I absolutely love their powerful expressiveness.
Salwa Mikou:
The fashion designer Hussein Chalayan, for his ability to transform and create crossovers between numerous cultural influences.
E.D.: What are currently your favourite brands or objects, and why?Selma Mikou:
Brands are dangerous because they can become restrictive. I can't stand the idea of disappearing behind a brand!!
Salwa Mikou:
I like the hand of Fatima.