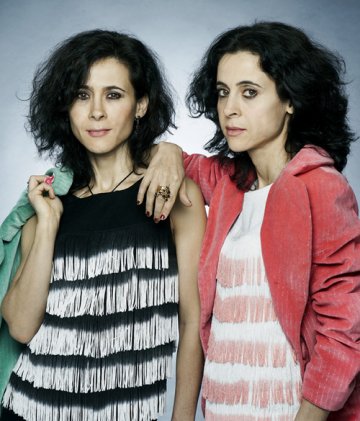 The Mikou Design Studio
Twenty things about Salwa & Selma Mikou
Zanoah Bia, November 23, 2015
Article that our readers likes

Mikou Design Studio was created in 2005 by Selma Mikou and Salwa Mikou, after many years of collaboration with international architecture agencies, in particular Renzo Piano and Jean Nouvel, on projects on large private and public buildings, residences, offices and important redevelopments of public areas within the framework of re-qualification of urban and harbour planning. The references and expertise of Mikou Design Studio in the fields of architecture, engineering, urbanism and landscape design enable them to work in all types of projects, starting from initial design to completion. Mikou Design Studio is structured around Salwa and Selma Mikou architects DPLG, graduates from the school of Architecture Paris-Belleville, and a team of engineers and architects.

TWINS PORTRAITSelma Mikou, Architect Dplg
Graduated from the School of Architecture of Paris Belleville in 2000. After several experiences abroad, she joins Renzo Piano's practice from 2002 to 2005, working on a project in Abu Dhabi, housing and offices in London, and Lacma museum in Los Angeles. She is now a partner of Mikoustudio Architects, and works on cultural projects, public buildings and housing in France.
Salwa Mikou, Architect Dplg
Graduated from the School of Architecture of Paris Belleville in 2000. She worked from 2001 to 2005 with Jean Nouvel on international projects - residential and office buildings in Beirut, Seoul and Paris, urban projects in Doha, Valencia and Rabat, a cultural and educational centre in Kuwait city, a park in Barcelona and the studies for the Tanger Harbour. Today, she is a partner of Mikoustudio Architects in Paris.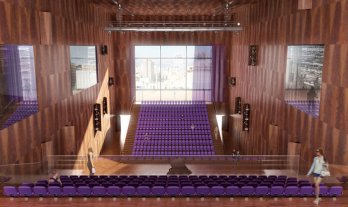 Mikou Studio_Maison des Arts in Beirut
Philosophical conversation with the Mikou sisters...

EgoDesign Magazine: Who are you / how would you describe yourself?Selma and Salwa Mikou:
architects of the heart and mind. We were born in Fez (Marocco), right in the middle of the medina, a mysterious, strongly-charged, labyrinthine place that marks you for life.
E.D.: Tell us more about Mikou Design Studio, and your last works (Lighthouse Tower Rio, URSSAF and The Institute of Islamic Cultures for example)Selma Mikou:
Mikou Design Studio
defines itself as a place of creation and experimentation in architecture and its inter-disciplinary cross-fertilisation. We work in a continuous workshop spirit with a multidisciplinary team of architects, engineers, graphic artists, scenographers and town planners from very different cultural backgrounds.
Every project is an excuse for re-questioning and redefining the meaning of a brief, a function, and an urban, social and human context, in order to invent new ways of living, places for sharing and gathering that are more sensitive and more sensual, and which stimulate feelings.
Our aim is to get away from preconceptions of form and function in order to transmit more and better. The Lighthouse Tower in Rio, the Maison des Arts centre in Beirut and the head office of URSSAF in Saint Etienne are within this perspective.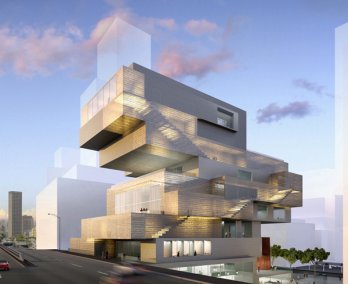 Mikou Studio_Maison des Arts in Beirut
Salwa Mikou:
We are an organisation that reflects on and produces the buildings of tomorrow. We try to do more than simply transcribe a programme, a brief or functions from one project to another. We aim to bring out the meaning or even the symbolism of a project, to question the expression and the impact of the things we must design. We do not repeat the same forms or produce an identifiable style. Rather, we spontaneously create a specific response to a specific context, in keeping with a given situation or a specific place.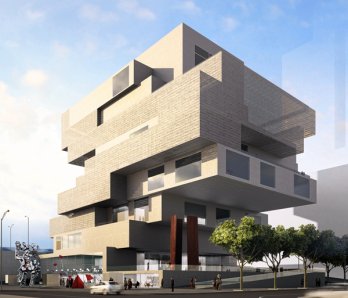 Mikou Studio_Maison des Arts in Beirut
E.D.: Is there a philosophy behind your work?Selma Mikou:
If anything, it would be how to give more. In the end, today's house is not just a simple "machine for living"; and this is valid for all briefs. Our architecture looks for the fourth dimension, that of sensitive spatial perceptions, of communication and reconciliation between people through the cross-fertilisation of imaginations, whereby everyone can interpret and live a space in their own way, with an infinite number of possible appropriations. A building is above all a place of giving.
Salwa Mikou:
Truth is not found in a single dream. My philosophy would be one of happiness. To make people happy, and to do a maximum with a minimum.