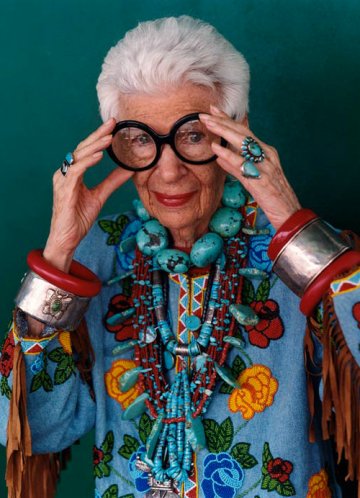 Iris Apfel
The fashion's latest Grande Dame
Z.B., April 23, 2014
"For me the key to personal style lies in accessories. My friends tells me that my oversized glasses and my pairs of bracelets have become my unwritten signature. I have amassed an enormous 'collection' of bags, belts, bangles and beads without which I would be lost. One can change the entire look of an outfit by substituting one accessory for another. I love objects from different worlds, different eras, combined my way. Never uptight, achieving – hopefully – a kind of throwaway chic."
Iris Apfel.
Iris Apfel is 91, a
"Geriatric starlet"
(her own description) who has suddenly become a staple of hip New York life – photographed by Bruce Weber, admired by designers such as Isaac Mizrahi and Duro Olowu, featured in Paper magazine, Vogue and the New York Times, blown up beyond life-size in the window of Barneys department store. In the last years since a show of her clothes at the Metropolitan Museum's Costume Institute was a word-of-mouth sensation, she has taken the world of style by storm. Her looks are now so legendary and recognizable thousand miles from Manhattan.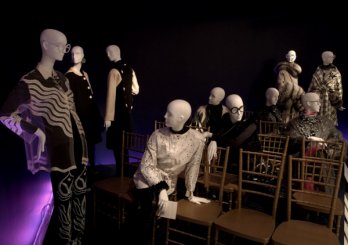 Iris Apfel/Models
Rare Bird of Fashion: The Irreverent Iris Apfel
presented at PEM - Peabody Essex Museum - in 2009 shows more than 80 dramatic ensembles from the personal collections of legendary tastemaker and style icon Iris Apfel. Known for her eclectic mixing of haute couture with costume jewelry and exotic baubles, Apfel has inspired bold developments in the fashion industry through her spirited irreverence and pitch-perfect taste. Now in her 89
th
year, she continues to challenge visual culture with radical juxtapositions of disparate influences. These spectacular and unexpected wardrobe combinations are exhibited with inventive staging and playful displays that underscore Apfel's inexhaustible creative spirit.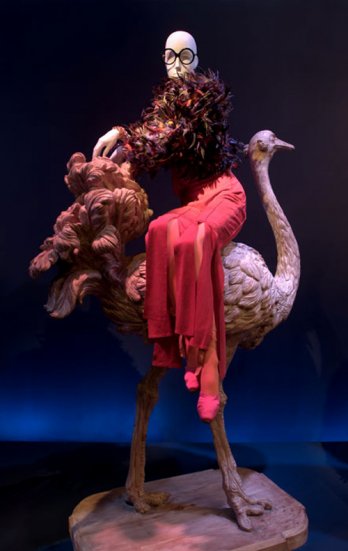 Iris Apfel/Models