THE NUDE
In Modern Canadian Art, 1920-1950
M.H.R., November 16, 2009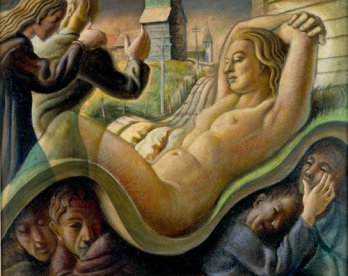 Nu_Nude/Henry George Glyde, Elle était assise sur une colline dominant la ville, 1940_She Sat Upon A Hill Above the City, 1940_Gift-Don de Helen Collinson, 1981_Glenbow Museum, Calgary.
In Canada, the nude evolved into an experimental form that embodied the ideals of modernism. Its subversive character increased as explorations of the imagination and the subconscious generated new visual metaphors.
During the 1940s Quebec artists drew considerable inspiration from this inner world, and their contributions fed into several major international movements. The bodies created are sometimes disturbing in their strangeness and licentiousness, or because of their gruesome setting. In 1948 the Quebec Automatistes published Refus Global, a manifesto that loudly decried traditional values, societal stagnation and the dictatorship of reason. The works executed by their leader Borduas, just before he moved away from figurative art entirely to embrace abstraction, feature a highly sexualized nudity.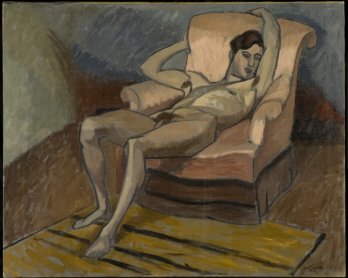 Nu_Nude/John Lyman, Jeune homme indolent, Indolent Youth about, vers 1922_MNBAQ, Québec
The nude figure study – known as an "academy figure" – was an essential element of an artist's training. Since the late 19
th
century Canadian art schools had been offering drawing classes with live models, generally men wearing a loincloth. Students dissatisfied with this teaching approach organized clandestine sketching sessions with models who were entirely nude.
The studio nude soon became more than a learning exercise, developing into a full-fledged genre that symbolized the private space of creation. Certain artists, like Ernst Neuman and Pegi Nicol MacLeod, executed strikingly uninhibited self-portraits, stripped down and full of vitality. But the image of a nude body is never commonplace, and some works were considered shocking at the time. The proximity and crudity of the sexualized bodies sometimes led to censorship. The reputed draughtsman Louis Muhlstock protested publicly against such reactions, proclaiming the right to freedom of expression.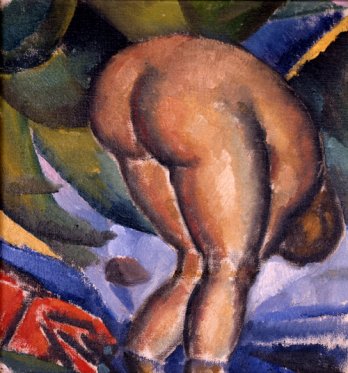 Nu_Nude/Lionel LeMoine FitzGerald, Nu, Vers_Nude about 1929_Don en mémoire de Marjorie Brunton, Guyborough, Nova Scotia, 1999_Art Gallery of Nova Scotia, Halifax
"The nude" and "nudity" are worlds apart. In art, the nude is a genre generally associated with bodies that are beautiful, healthy and in their prime, remodelled and exalted by the artist. Nudity, on the other hand, simply denotes the condition of being unclothed, and the term itself conjures some of the discomfort we feel when exposed to bodies in this state.
Between 1920 and 1950, as popular culture spread, images of nudity proliferated, especially in the swiftly growing entertainment industry. Swept along by this powerful movement, modernity demythologized everyday experience.
These fundamental changes were reflected in art, whose relationship to reality intensified. A number of artist employed nudity to express their criticisms of society and their progressive views. Others made it part of an ironic, irreverent approach. The modern nude is also characterized by a mix of genres: scenes of nightclubs and daily life abound, but so do images featuring the symbolic figures of classical art, portrayed in conventional odalisque poses.
Canada's war artists created many records of the country's participation in the two world wars that marked the 20
th
century. Kept today at the Canadian War Museum, these works offer glimpses of the harsh experiences of troops at the front, but also reveal different aspects of everyday life in the military.
In the armed forces, nudity established a feeling of camaraderie among men of different backgrounds, contributing towards the cohesiveness of the various combat units. In his striking picture of soldiers bathing, C. W. Jefferys paid tribute to human flesh in a manner hitherto unseen in Canadian art. The impression of youth and strength conveyed by the male bodies – which are reminiscent of academic life studies – is accompanied by a sense of their vulnerability under the watchful gaze of the clothed observers, with whom we inevitably identify.
Some artists nevertheless continued to portray reclining female nudes during the years of conflict – an attempt to denounce indifference to the war being played out in Europe and to symbolize the dehumanization rife at the time.
www.mnbaq.qc.ca