THE NUDE
In Modern Canadian Art, 1920-1950
M.H.R., November 16, 2009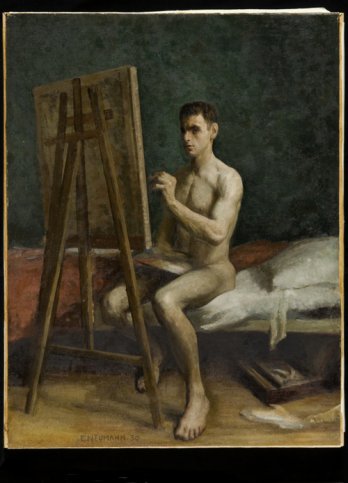 Nu_Nude/Ernst Neumann, Autoportrait nu_Portrait of the Artist Nude 1930_Gift of-de Mr. Claude Laberge, Musée d'Art de Joliette
During the 1920s artists began questioning the canons of ideal beauty that had been embodied for centuries in images of Apollo and Venus. Little by little the slick surfaces and smooth, entirely hairless bodies of the past disappeared, giving way to a more realistic aesthetic approach.
Under the impact of Art Nouveau and Art Deco, the works in this section reflect a concern for order and harmony. The nude figures blend into their environment, echoing its forms and light while embodying the sensual qualities of flesh in a variety of ways.
Despite the often classically inspired settings and the odalisque poses – either reclining or standing facing the viewer – the models show signs of modernity. It is easy to spot the roaring twenties garçonne, with her athletic body, cropped hair and make-up. Although female models still predominated in Canadian works from the first half of the 20
th
century, a number of women artists practised the art of the nude and contributed towards its modernization.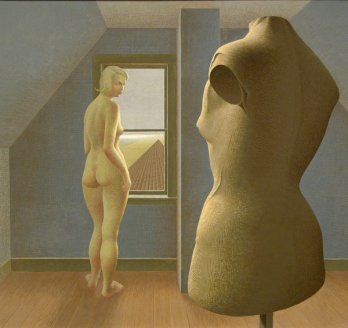 Nu_Nude/Alexander Colville, Nu et mannequin-Nude and Dummy, 1950_Purchased from the artist, 1951, New Brunswick Museum, Saint John
Research for the exhibition uncovered a wealth of images of backs and torsos. Does this phenomenon reflect the enduring affection of painters for the studio model – such a familiar feature of their education? Or was the focus on the back simply a way of avoiding censorship?
In fact, the habit of portraying the body in sections went back to the classical tradition, which taught drawing by having students copy fragments of antique statues. The practice meant that artists were used to perceiving the body not as a whole but as a collection of separate parts. And the development of photography brought new perspectives, since it allowed innovative framing and the mapping of new body geographies. These techniques encouraged the close-up, which sometimes confronted viewers with highly sexual, even provocative images.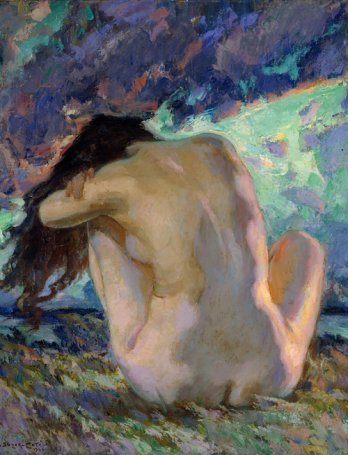 Nu_Nude/Marc-Aurèle de Foy Suzor-Coté, Symphonie pathétique-Pathetic Symphony, 1925_Restauration effectuée par le Centre de conservation du Québec Musée national des Beaux-Arts du Québec, Québec
The theme of the nude in nature has inspired numerous masterpieces, from Giorgione in the 16
th
century to
Manet, Cézanne, Renoir, Picasso and Matisse four hundred years later.
In Canada, the subject was eclipsed by the painting of the influential Group of Seven, whose members asserted their modernity exclusively via the representation of nature. Montrealer Edwin Holgate, who became a member of the group in 1929, humanized his landscapes by peopling them with nude figures that mirror the forms of their untamed surroundings. During the same period, the Toronto artist Kathleen Munn made her bodies one with the wilderness, fusing the two in the expressive chaos created by a network of Cubist lines and rhythms.
Like these artists – more so, in fact – Montrealer John Lyman was influenced by French thinking and its myth of a humanity in harmony with nature. His painting echoes Matisse's, itself a reflection of Baudelaire's invitation to go where "all is order and beauty, luxury, peace and pleasure."