Pierluigi Piu
OLIVOMARE + OLIVINO
P.P., November 9, 2009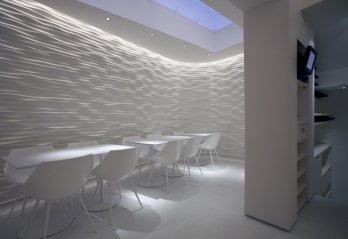 Pierluigi Piu/Olivomare Restau_G.Dettori
Bio_Express
Pierluigi Piu was born in Cagliari (Sardinia, Italy) in 1954. He later pursued his studies at the University of Architecture in Florence, in which city he lived until 1989. Here he also establishes and carries out - between 1982 and 1985 – the design practice and production company 'Atelier Proconsolo', under the auspices of which he participates in various exhibitions and trade fairs, both in Italy and abroad. Since 1985 he works as an associate consultant (for Product and Interiors Design) at the firm ACME Consultants (Association pour la Création et les Méthodes d'Evolution), based in Paris, taking part in the development of products for firms such as Gaz de France, Essilor (a leader in the world of spectacles), Fiat-Iveco and Paris Airports, amongst others. In 1990 there followed a collaboration with the Belgian architect Pierre Lallemand, at his architectural practice "Art & Build" in Bruxelles.
Pierluigi Piu/Olivomare
In the course of 1991 he carried out, under his own auspices, his first assignments in England, before returning to Cagliari , his birthplace, where he opened his own office and began working in the field of interior design and architecture. In 1995 he undertook a new project in London. Then, from 1996 until 1998, he was back in Bruxelles, where he had been summoned by the architect Steven Beckers to collaborate on a project for the reconstruction and refurbishment of the Berlaymont Palace, the historic seat of the Council of Ministers of the European Community, and so undertook - working together with a specially formed international equipe - the supervision and coordination of the aesthetic and formal language for the interior design of the entire building...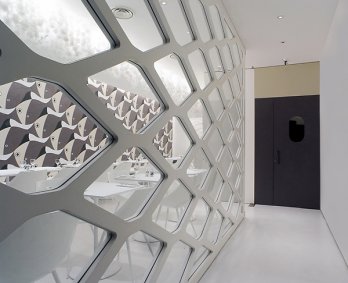 Pierluigi Piu/Olivomare
... In 2006/2007 he carried out the design of two new commercial projects in London, for which he was assigned the "Russian International Architectural Award 2007" in Moscow, the "International Design Award 2008" in Los Angeles and the "Archi-Bau Design Award 2009" in Munich, Germany. Mainly based and working in Cagliari, he continues his professional career most particularly in the fields of private residences and of commercial space as well as working on overseas projects. His designs and works have been reported on in several specialist books in Italy, Europe, Asia and the United States and in some of the most important national and international trade magazines.