Gabor Szilasi
The Eloquence of the Everyday
David Harris, November 7, 2011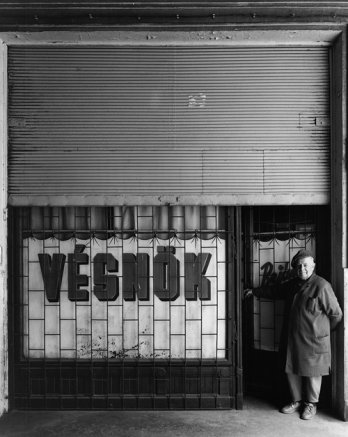 La boutique du graveur, Gozsdu udvar, 7e Arr, Budapest, sept.-oct. 1995_Gabor Szilasi, 2009.
Szilasi's fascination with the city's signage and advertising also inspired the Lux series (1982-84) in which he used colour photography and restricted them to illuminated signs that had been individually conceived and manufactured. From the 19080's onward, Szilasi did much of his work abroad, undertaking projects in Hungary, Italy, Poland and France. In 1980, Szilasi returned for the first time to Hungary, and visited again in 1994 and 1995 to specifically photograph the city, places and people he had known.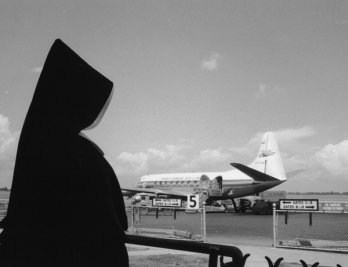 Religieuse à l'aéroport de Dorval, Montréal, août 1959_Musée canadien de la photographie contemporaine, Ottawa_Gabor Szilasi, 2009
Portraiture, which began in the 1950s with portraits of family and friends, has permeated Szilasi's entire photographic production. In Montreal, from the 1960s until today, Szilasi continues to make portraits of artists, family and friends. From 1977-79, Szilasi took a new approach with the Portraits/Interiors series in which he created diptychs consisting of a black and white photo of the sitter paired with a colour photo of the room in which the photo was taken. In 1992, he embarked on a new approach to portraiture, using a view camera and photographing his subjects at extremely close proximity, tightly framing the sitters' facial features. In 2003, he undertook the first of two projects at Les Impatients, an art therapy centre for people with psychiatric disabilities, where the artist and participants took turns in exploring the roles of subject and photographer, creating portraits and self-portraits.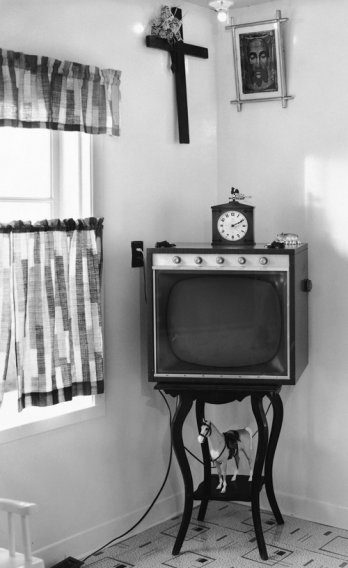 TV avec crucifix chez Léon Lajoie, Île aux Coudres, Charlevoix, sept. 1970_Musée canadien de la photographie contemporaine, Ottawa_Gabor Szilasi, 2009
cmcp.gallery.ca