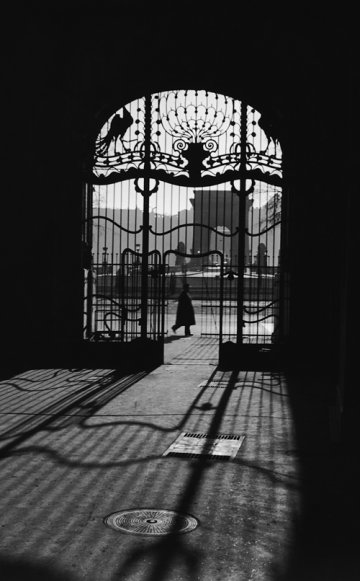 Gabor Szilasi
The Eloquence of the Everyday
David Harris, November 7, 2011
"My subjects in photography really deal with every day life, mostly with people and their environment whether it's indoors or outdoors and that is what always interested me. I like … how everything changes, how everything is in eternal flux … you know signs change, buildings are demolished, new buildings constructed, same thing with people. If you walk into an interior to take a photograph, if you come back the next day it's not the same anymore. It might be just one object moved in the room but this constant change interests me and that's one reason that I'm interested in social documentary."
Gabor Szilasi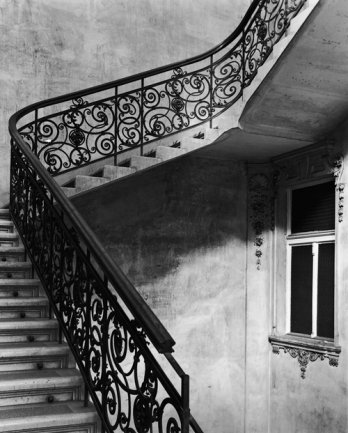 Escalier, Lörinc tér 2, 8e arrondissement, Budapest, sept.-oct. 1995_Musée canadien de la photographie contemporaine, Ottawa_Gabor Szilasi, 2009
Over the last 50 years, Gabor Szilasi )bonr in Budapest in 1928) has created one of Canada's most significant and influential bodies of photographic work, comprising environmental portraits, domestic and urban views of Montreal and Budapest, and images of rural Quebec. His photographs have been sustained by an unwavering belief in the humanistic and documentary value of the medium.
This photographic journey of 124 photographs celebrates Szilasi's achievement and reveals the essence of his artistic vision through his observations of urban and rural life and his recordings of the connections between culture and community. In order to represent the evolution and reach of Szilasi's work, more obscure and never-before-exhibited photographs are shown alongside better known, more iconic images.
Musique Archambault, 500, rue Sainte-Catherine Est, Montréal, novembre 1979_Centre Canadien d'Architecture, Montréal_Gabor Szilasi, 2009
Bio_Express
Gabor Szilasi - Gabor Szilasi - Born: 3 February 1928, Budapest, Hungary - is a documentary photographer renowned for his humanitarian vision. His fascination with daily life has led him to search for images that show the traces of man's presence - be it photos of people, interiors, vernacular architecture and urban landscapes.