Pierre Soulages
Painter of black and light
Hans-Ulrich Obrist + Cédric Moullier, April 8, 2013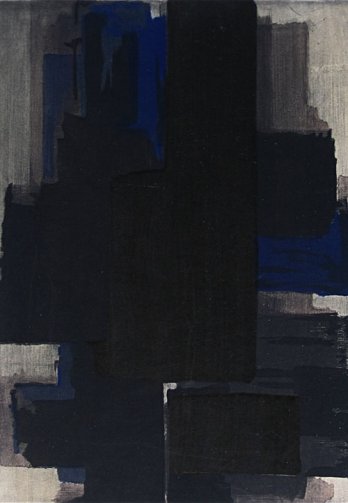 Pierre Soulages/Soulages_Pochoir, 1956
A Pierre Soulages chronology

1919-1940
_Pierre Soulages born in Rodez (Aveyron) on 24 December 1919. Begins to paint regularly in 1934.
After gaining his baccalauréat, in September 1938 he leaves Rodez for Paris, where he enters the studio of René Jaudon to study drawing. Visits the Louvre, the Orangerie, the Petit Palais, and the Picasso and Cézanne exhibitions. Although accepted at the École Nationale des Beaux-Arts (Paris), he returns to Rodez. Mobilised in June 1940, he is sent to Bordeaux and after the armistice to Nyons (Drôme).
1941-1945
_Demobilised in early 1941, he becomes a student at the Ecole des Beaux-Arts in Montpellier, where he
meets Colette Llaurens, marrying her in October 1942. Together, they visit the Musée Fabre. Refusing compulsory labour service in Germany, he obtains false papers and employment as a manager at a vineyard near Montpellier, where he meets writer Joseph Delteil, a neighbour, to whom he shows his paintings. Called up again in June 1944, he is demobilised late the same year.
1946-1953
_In 1946, Soulages and his wife move to Courbevoie. In 1947, he shows at the Salon des Surindépendants and becomes friends with Hans Hartung and Francis Picabia. Moves to rue Schoelcher in Paris and in 1949 has his first solo show, at Galerie Lydia Conti, and designs the set for Roger Vailland's play Héloïse
et Abélard. In 1950, begins to systematically title his paintings as "Painting [size], [date]." In 1951, he does his first etchings, at Roger Lacourière's studio. In 1952, Soulages shows four paintings at the Venice Biennale and designs the set for a stage version of Graham Greene's The Power and the Glory (never performed due to the death of Louis Jouvet).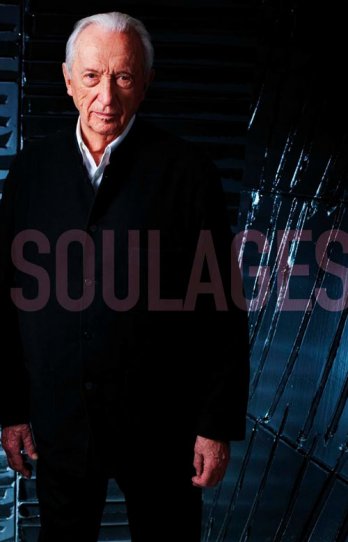 Pierre Soulages/Pierre Soulages_Adgp, Paris 2009.
1954-1966
_After successfully staging Soulages's first New York solo exhibition in 1954, gallerist Samuel Kootz
becomes his US representative (putting on a further seven shows in the period to 1966). In 1955, Soulages participates in the first Kassel Documenta and shows at Gimpel Fils in London. In 1956, he has a solo show at the Galerie de France (followed by many more between then and 1992). In 1957, moves his studio to the rue Galande and visits New York, meeting a number of American artists (among them Mark Rothko, Willem de Kooning, Robert Motherwell and Franz Kline). That same year, Soulages is awarded the Grand Prix at the Tokyo Biennale. There are retrospectives in Hanover in 1960 (touring Germany, the Netherlands and Switzerland), Copenhagen in 1963, and Houston in 1966.
1967-1978
_In 1967, the Musée National d'Art Moderne is the first French art museum to mount a Soulages exhibition. In 1968, the painter visits New York and afterwards Washington for exhibitions of his work. Writes an important theoretical text for the Matisse retrospective in Copenhagen in 1970. In 1974, he moves to a new studio in the 5
th
arrondissement. Later that year he has a major exhibition in Dakar (which then travels to Lisbon, Madrid, Montpellier and Latin America). Makes three bronzes based on etched plates (1975-1977), shown at the Galerie de France in 1977.
1979-1993
_Begins "a different painting" that he calls outrenoir. At the exhibition of his recent work at Centre
Pompidou in 1979, Soulages has his paintings suspended in space (a principle first adopted in Houston in 1966). The Danish government commissions a large painting for the Musikhuset in Aarhus (installed 1982); a monumental polyptych is installed at the Regional Telecommunications Centre in Dijon in 1983. In 1984, Soulages returns to Japan for a retrospective. In 1987, he receives the public commission for stained-glass windows for the Abbey of Sainte-Foy de Conques.
1994-2009
_In 1994, following the inauguration of the stained-glass windows at Conques, the maquettes are shown
in Münster. In 1996, the Musée d'Art Moderne de la Ville de Paris stages a Soulages retrospective (travelling to Montréal and São Paulo). In 2001, Pierre Soulages is the first living painter to be given an exhibition at the Hermitage in Saint Petersburg (which then travels to Moscow). In 2005, Pierre and Colette Soulages donate work for the future Musée Soulages in Rodez, and also to the Musée Fabre in Montpellier, where the permanent exhibition of Soulages opens in 2007.
www.pierre-soulages.com