Pierre Soulages
Painter of black and light
Hans-Ulrich Obrist + Cédric Moullier, April 8, 2013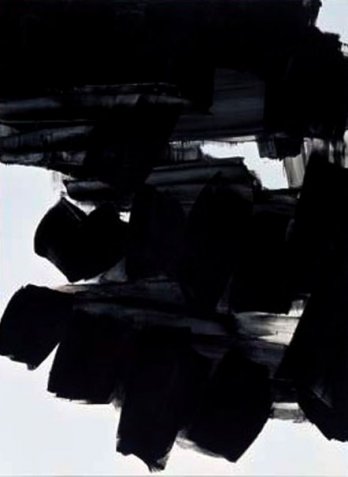 Pierre Soulages/Pierre Soulages_Collection Centre Pompidou, Musée national d'art moderner_RMN_Adagp, Paris 2009
H.-U.O.: So what you use, then, is the light, not the black.P.S.:
Exactly. It's the light reflected by the black paint. I invented a word for the phenomenon: outrenoir (ultra-black).
H.-U.O.: How would you define outrenoir, in 2009?P.S.:
It's another mental space than that of black. Art is always a matter of mental space. This "other" space in front of the canvas creates another relationship to space. And a different relationship to time. And it gives the work a tremendous presence. The notion of presence is enormously important in art. When a painting refers to a subject, its presence is weakened. A painting has to be present when you look at it… What I like is the force of a painting's presence. …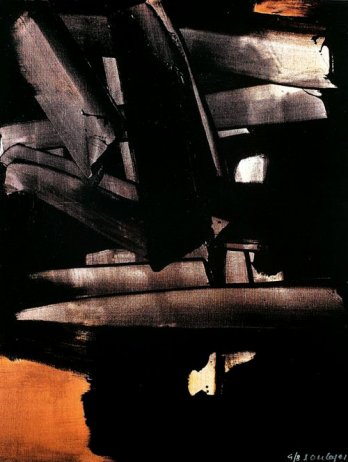 Pierre Soulages/Soulages sans titre 4-8
H.-U.O.: Let's go back to the black. You say it's a violent colour, which has eliminated the others.
For you, it's also a passion.P.S.:
Black interested me first of all in terms of its relationship to the other colours, it's a contrast. Alongside it, even a dark colour lights up. In the same way, it intensifies white. But absolute black doesn't exist, or it exists only in caves. I find it fascinating, what's more, that people went down into the darkest of places, into the complete darkness of the caves, to paint with black! The colour black is the colour of origins. Of our own origins too. Before we're born, before "seeing the light of day," we are all in the black dark. And the first person to produce a black square was Robert Fludd in 1617. It was a Rosy Cross. The Rosicrucians believed, I think, that the whole world began in black and would end in black.
H.-U.O.: Before Malevich?P.S.:
Indeed, some centuries before.
H.-U.O.: What does the colour represent, for you?P.S.:
As a symbol, black is contradictory. It connotes anarchy as well as authority. It is as much pomp and celebration as austerity and mourning. For me, its value is far from being symbolic: I love it for the painterly power it has hidden within it.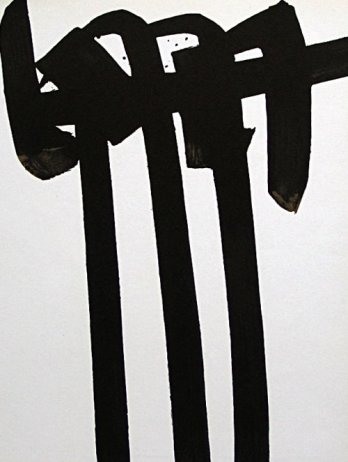 Pierre Soulages/Soulages_Original lithographie1970
H.-U.O.: It's a colour that has fascinated you for a long time…P.S.:
That's true. As a child, I preferred to dip my brush into black ink rather than paints. I was told that I used to make big black marks on paper, that I used to say that I was doing snow…
H.-U.O.: Marcel Duchamp said, essentially, that the viewer does half the work…P.S.:
His contribution is even more important, and of a different kind! …
H.-U.O.: A thing about your paintings is that they have no titles.P.S.:
But they do! A title: the size of the painting, and the date. I have always wanted my paintings to have the character of an object, of a thing. That's why the title is limited to their materiality, which is further emphasized in those that are fixed to cables between floor and ceiling. A painting on the wall is a kind of window. On cables, it becomes a wall.
H.-U.O.: Like that, the paintings divide space.P.S.:
They give it rhythm. They create a different space. Part of the exhibition at the
Centre Pompidou
is organised according to this principle that I've been using since 1966.