Pierre Soulages
Painter of black and light
Hans-Ulrich Obrist + Cédric Moullier, April 8, 2013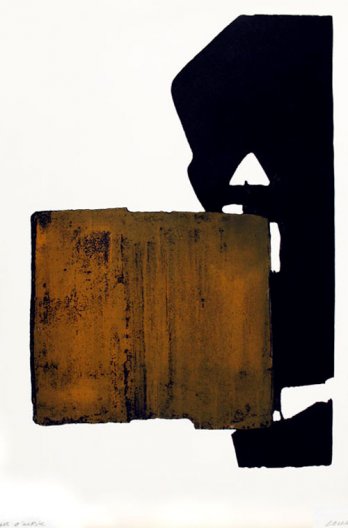 Pierre Soulages/Eau-forte XIX, 1970
H.-U.O.: What is it in particular that touches you in these periods?P.S.:
The prehistoric was revealed in a succession of waves. We knew about Pech Merle and Niaux. Then came Lascaux, and now we have Chauvet, in Vallon-Pont d'Arc: that takes us back three hundred and forty centuries! These vast painted spaces inspired a desire for freedom. The paintings impressed me by the force of their presence, which went far beyond the concern for illusionistic representation that ended up in the study of perspective. This last was presented to us as an advance, but the presence of the work found itself overshadowed by what it represented. And to this narrowing down of the visual, I preferred an opening-up…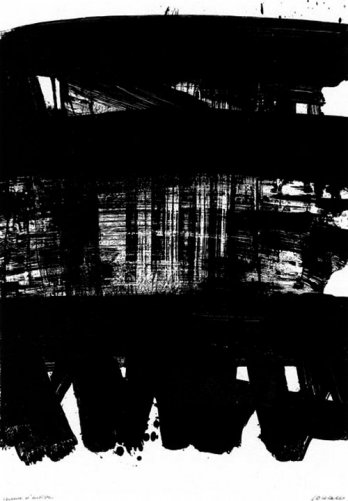 Pierre Soulages/Lithographie 21, 1969
H.-U.O.: And as regards architecture, what are your influences?P.S.:
I know something of contemporary architecture after the Bauhaus. As it happens, I actually met Mies van der Rohe, in Chicago in 1957. He'd chosen one of my canvases for one of his students, Anderson Todd. But going back a bit further, I really like Étienne-Louis Boullée, for his writings and drawings, as well as Ledoux and a few others, the architectural utopianists. I recently received a postcard of a museum that Tadao Ando has just built, it's completely underground. There's another that I visited, at Miho, by I. M. Pei, that's partly underground. They made me think of what Boullée wrote, and I quote from memory:
"It is necessary that the parts that project above the surface of the ground allow one to imagine what the earth hides from view."
The idea of an architecture that you don't see, that you imagine or suspect, it's wonderful. …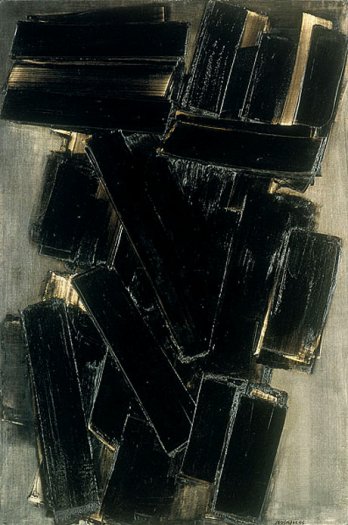 Pierre Soulages/Pierre Soulages_6 August 1956
H.-U.O.: What was your first exhibition abroad?P.S.:
It was in Germany, in 1948. There were ten of us, and I was with Bott, Kupka, Domela, Herbin, Del Marle, Hartung, Schneider...
H.-U.O.: The famous walnut-stain poster? Another invention!P.S.:
An act of daring, rather. As far as I know no one had used it before. After Arte Povera, it wouldn't be such a surprising thing to use.
H.-U.O.: The idea of invention interests me enormously. When I interviewed Albert Hoffman, the inventor of LSD, he was 100 years old, and he told me that he could clearly remember the day he made his discovery… Do you have a clear recollection of your discovery of black?P.S.:
Black used like this, yes. It was in 1979. I was painting, or rather making a mess of a painting. A big black daub. I was miserable, and thinking that it was pure masochism to go on so long, I went to bed. On waking up I went to look at the painting, and I saw that it wasn't the black that made the picture come alive but the light reflected on the black surfaces. On the striated surfaces the light vibrated, and on the smooth areas all was calm. A new space: the space of painting was no longer on the wall, as in the Byzantine pictorial tradition, nor was it behind the wall, as in perspective painting, it was now physically in front of the painting. The light was coming to me from the painting, I was in the painting. And what is more, the light was coming from the colour that is the greatest absence of light. I went on from there.