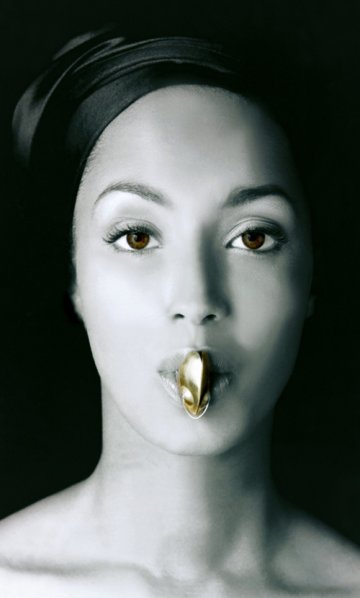 Siegfried De Buck
Jewellery designer and silversmith
MGB, October 12, 2009
Siegfried De Buck turned sixty in August 2009. In honour of the occasion,
Design museum Gent
is presenting an overview of his work.
"In the year 2009, Siegfried De Buck, designer of jewellery and utensils, is one of the few to separate design from the speed and economic mayhem"
, says Koen van Synghel at the award ceremony of the "Henry Van De Velde Career Award" in the spring of 2009.
Fairly early on, it was evident that Siegfried De Buck (born 1949) would choose an artistic vocation. At the age of 12 he already showed an interest in the arts. The fact that he eventually would become a jewellery designer was more a confluence of circumstances. His father sent him to the abbey school in Maredsous. In 1964 he left for the École des Métiers d'Arts, IATA, in order to take the goldsmith training. The school promoted the departure from decoration as well as the sense of construction.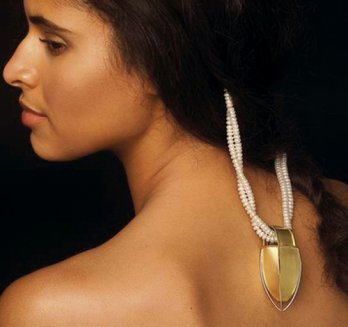 Siegfried De Buck/Necklace, 2002_Didier Verriest.
Even though the training focused on silversmithing, the idea grew to further enhance his jewellery design, and in 1968 Siegfried De Buck took to the Académie des Beaux Arts, Strasbourg (France). In 1971 Siegfried De Buck set up shop as a self-employed designer in Ghent along with his wife Hermine De Groeve and their three children Isolde, Helmut and Pearl. By his own, he experimented with unconventional techniques and materials. The sound technical training he had taken in Maredsous was of use to him in the refinement and artistic elaboration. He did not lose himself in decorative elements, but limited himself to the essence. Powerful jewellery designs were created with a clear and personal imagery.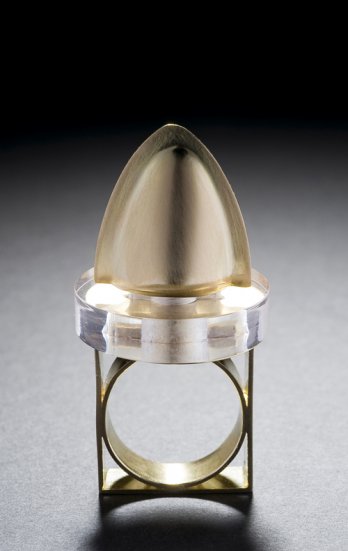 Siegfried De Buck/Ring Babel.
In the middle of the 1970s Siegfried De Buck developed an interest in materials other than precious metals. In these jewellery items, the design was supported by the choice of materials. At the beginning of the 80s he continued his experiments with new materials, and incorporated black rubber, elephant hair, Plexiglas, and steel. These jewels showed an enormous mastery of various techniques. Incidentally, high-grade finishing is characteristic of his entire oeuvre. In 1982 during Lineart, he made an impression by his Jewellery Pavilion, a construction in the shape of one of his rings, namely the "Pavilion" ring made from rubber and gold. In the pavilion he displayed nine jewels and their holograms. He also presented a slide show of that work. In 1985 Siegfried De Buck boldly set about creating a sculpture for which one of his pendants served as the basis, thus creating Pendant X30 which was purchased by the Ministry of Culture.