Sylvain Dubuisson
Get out of my sun
Yves Gradelet + Pauline Lacoste, September 28, 2009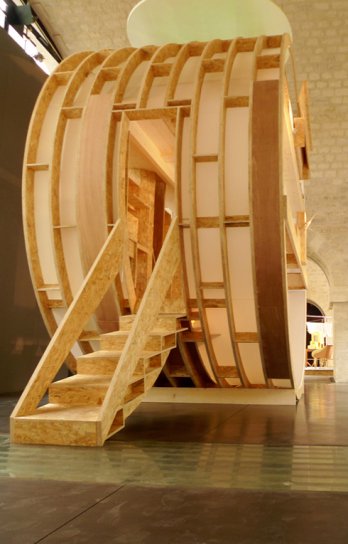 Dubuisson_Diogène 04© correspond à une vue de l'installation Diogène, vu de profil, depuis sa gauche
Elsewhere in the 300 m² of exhibition space in the VIA gallery other pieces on display are eloquently enhanced by drawings, which for Sylvain Dubuisson constitute 'a language… but which also sectorize representation, codifying it…'
They include 'historic' pieces like the 'Composite table' (1987), made of carbon fibre, a marvel of weightlessness, or the «L'Aube et le temps qu'elle dure» chair (1987), which upends the classic scheme of weight-bearing legs. More recent works include the «Douce amère» table (2003), with its name etched in the centre of its top and whose round legs feature phials that contain legendary plants such as mandrake, hemlock, belladonna and fly-agaric. There is also the 'MDW' desk (2004), whose thin aluminium plateau resting on four points of a surbased vault caisson represents a synthesis of Dubuisson's formal and technological research since 1987.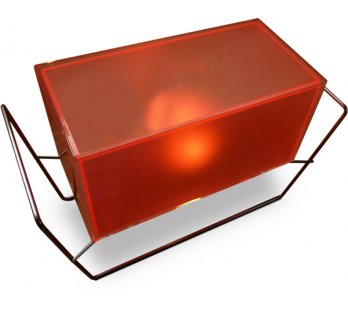 Dubuisson_Porte vue Education nationale© correspond au porte-revue lumineux, issue de la collection Education nationale.
Sylvain Dubuisson, architect & designer
Architect, designer and creators, he qualified at the school of architecture in Tournai (Belgium) and descends from a line of architects. His father was from Lille and his mother from Bordeaux. Born in 1946, Dubuisson is one of the most atypical creators of his generation. Blending a taste for advanced technologies with the precision of the craftsman, he has designed a wide range of objects and pieces of furniture as well as spaces: from ewer to standing lamp, from minister's armchair to bishop's seat, from a pen etched with the handwriting of Rimbaud to dishware in virginal porcelain, and from rehabilitated social housing to layouts for museum, church and luxury boutiques, not to forget exhibition scenography and the creation of urban furniture… A diversity that shows to what extent architecture and design are inseparable for him.
Drawing presides over each of Sylvain Dubuisson's projects and is also part of his daily practise. 'The hand thinks and carries all the grandeur and imperfection of sensitivity', he remarks. This is how spirals come to figure in the legs of armchairs, torsades in candle-sticks or carafes, and volutes in stairs. Another constant in his work is literary reference. Each one of his lamps carries a line or a thought: «Beaucoup de bruit pour rien» refers to an inventory by Kafka, «Applique A4» contains a poem by Robert Musil. And there is also the «Lettera amorosa» vase, etched with verses by René Char.
Past master in handling industrial constraints, Dubuisson explores the possibilities of new technologies. 'Matter enables us to reveal interiority', he says, 'and bring about a shift'. The 'Composite table' (1987) is one of the earliest and best examples of this. In works in which the material and the spiritual combine, Sylvain Dubuisson transmits 'discourse that is sometimes clear, sometimes fragmentary, sometimes occult, and which records awareness of our daily reality.'
Most recent works
• Rue Watt, Paris 13, urban lighting with Bruno Fortier, architect, and Louis Clair, lighting engineer, in progress
• Bernardaud, 'Anno' coffee cup, 2008 + limited series dishes for Art Meets Matter, New York, 2009
• Dupont Café, Paris, layout in collaboration with Sandra Carigliano, interior architect, 2009
• European Parliament, Brussels, scenography of atrium and layout of salons for French Presidency, 2008
• Cartier Ginza, Tokyo, renovation of façade, 2007
www.via.fr