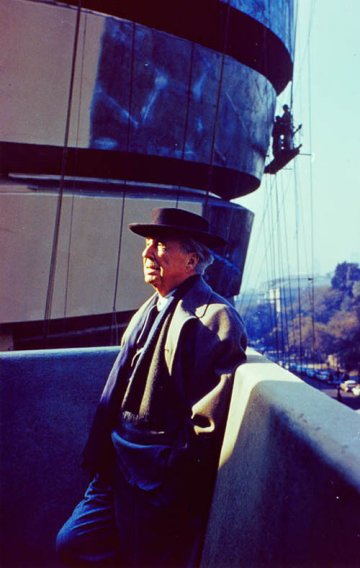 Frank Lloyd Wright
From Within Outward
M.G.B., September 21, 2009
Fifty years after the opening of the acclaimed Solomon R. Guggenheim Museum in New York designed by Frank Lloyd Wright, the Guggenheim Museum Bilbao celebrates this iconic building's golden anniversary by presenting
Frank Lloyd Wright
, the largest and most comprehensive exhibition that Europe has ever dedicated to one of the greatest architectural geniuses of the 20
th
century. The exhibition, through February 14, 2010, is co-organized by the Frank Lloyd Wright Foundation, the Solomon R. Guggenheim Foundation and the Guggenheim Museum Bilbao, with the generous sponsorship of Iberdrola. It features 63 visionary architecture projects that range from private homes and civic and government buildings to religious and performance spaces, as well as unrealized urban mega-structures.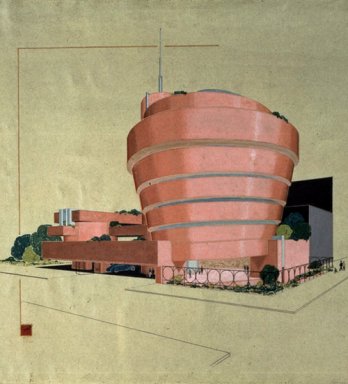 Solomon R. Guggenheim Museum, New York, 1943-59_The Frank Lloyd Wright Foundation, Scottsdale, Arizona
The show's singular layout allows visitors to discover the heterogeneous nature of Wright's designs in nearly 200 of the renowned architect's original drawings together with 12 new scale models and digital animations that bring his unrealized projects to life. This comprehensive overview of his work will take on special significance in the context of a landmark of 20
th
-century architecture, namely the building designed by Frank Gehry to house the Guggenheim Museum Bilbao.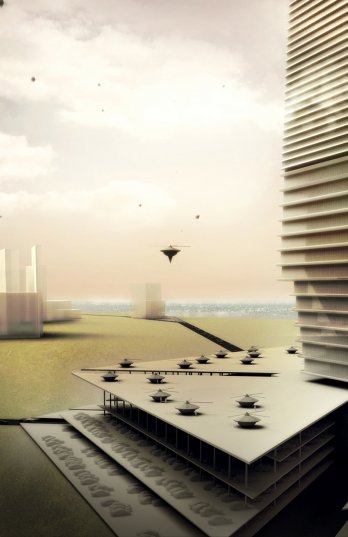 Mile High, The Illinois, Chicago, 1956 (non construit)_Graduate School of Design, Harvard, Professeur Allen Sayegh + Justin Chen et John Pugh
"For us, it is an honor to present this exhibition as a tribute to one of the great pioneers of modern architecture, and to offer visitors a singular chance to contemplate his visionary projects from an original perspective — and, displayed in the spaces designed by Frank Gehry, these works take on a whole new dimension,"
says Juan Ignacio Vidarte, General Director of the Guggenheim Museum Bilbao and Chief Officer for Global Strategies of the Solomon R. Guggenheim Foundation.