Abraham-Louis Breguet
An Apogee of European Watchmaking
Aggy Lerolle, May 10, 2010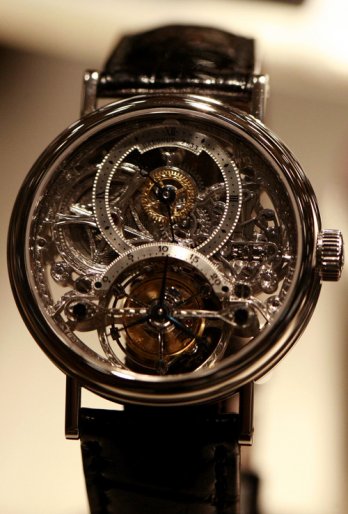 Breguet squelette watch with tourbillon
A European reputation under the Consulate and Empire
Thus began a thriving period for the House of Breguet, in terms of both sales and inventions, which seemed to spur one another on. Pure research and applied art always fused in Breguet's work. The first patent he registered for one of his inventions was in 1798 for constant force escapement (the mechanism of the watch is driven by a rigorous constant force). Shown at France's First Exhibition of Industrial Products (1798), in a travel clock and a metronome, it won Breguet a gold medal. The following year his "tact watch", which enabled the wearer to tell the time by touching the watch face, was launched on the market. At France's Third Exhibition (1802), the House of Breguet attracted a military clientele on presenting its "deck watch" and "Longitude watch", while in 1806, the public were introduced to the "tourbillon regulator" (device that neutralizes the effects of gravity on the workings of watch movements).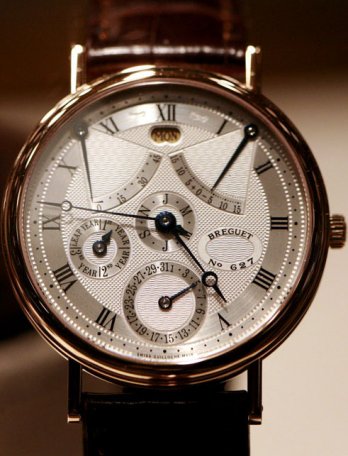 Breguet N. 627
Although kept in the background by Napoleon I, Breguet received orders from the imperial court and his entourage. Always ahead of its time, the company also exported its timepieces through a network in and outside of Europe, having understood at an early date that its survival depended on becoming international. England, Spain and Russia were its principal foreign markets, but the political situation at the end of the Empire slowed down Breguet's activity considerably. To compensate for the markets it lost, the company developed its sales in the Ottoman Empire by adapting its models to Turkish tastes.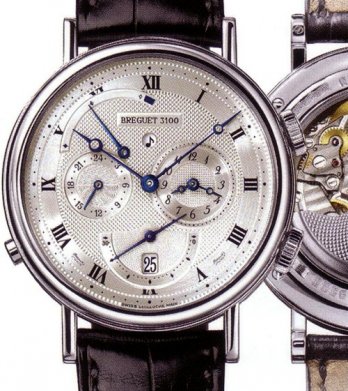 Breguet 3100
Ultimate recognition during the Restoration
When the Bourbons returned to power, the House of Breguet saw a spectacular turnaround in its activity. Its European clientele reburgeoned and included loyal customers such as Tsar Alexander I of Russia and King George IV of England. Prestigious timepieces once owned by them will be on display in this exhibition. In France, Louis XVIII publicly displayed his respect for Breguet by appointing him Watchmaker to the Royal Navy in 1815 and awarding him a seat in the Academy of Sciences in 1816. At the Exhibition of 1819, as member of the jury, Breguet presented a retrospective of his clockmaking career, during which he had raised this precision craft to a degree of unprecedented excellence. The reliability and streamlined designs of his timepieces were far ahead of his era and already belonged to modernity. This tradition lives on at Breguet today in innovative timepieces, thus confirming their precursory status that bears witness to European culture and history.
www.louvre.fr