RAOUL DUFY
Ceramics
Gérard Landrot, commissaire-curator, August 10, 2009
For the first time ever Belgium presents a major retrospective exhibition on Raoul Dufy's ceramics. And rightly so, for not only has Belgium often hosted exhibitions on his other works, his work has always been highly appreciated. Small wonder that
Design museum Gent
should take the initiative in exhibiting these ceramic and enamel masterpieces all summer long. For decades this sophisticated location has been a veritable conservatory of good taste, where artists from the past and designers of the present meet. Naturally,
Design museum Gent
will mainly highlight his decorative paintings, and will present a ceramics collection the likes of which Belgium has never seen before. The objects are part of various French and Belgian private collections and of collections from various European museums. Raoul Dufy's interest in the ceramic arts should not come as a surprise as he was the ultimate "Do-it-all" painter-genius of the beginning of the twentieth century, a man who was passionate about decorative arts: engravings, carpets, tapestry, wallpaper, theatrical sets, etc. His artistic freedom cannot be ignored as he was the first to make no hierarchical distinction between the fine arts and the applied arts, practising both with equal enthusiasm and talent.
Raoul Dufy_Portrait.
He was born in 1877 in Le Havre, and finds work at 14 years of age as an accountant for a coffee importing company. In the evenings, however, he takes courses at the École des Beaux-Arts of his native town. From 1895 on, he paints academic watercolour paintings, landscapes, portraits and self-portraits. In 1900 he received a scholarship allowing him to study at the École Nationale des Beaux-Arts in Paris, at the same time as Georges Braque. As of 1904 he is influenced by the impressionists and post-impressionists. When in 1905 he discovers the fauvist movement at the Salon d'Automne, more particularly the work of Matisse, he slowly begins to abandon the academic style of painting. As early as 1909 the fauvist influence disappears after having discovered the work of Cézanne. Little by little, he begins to develop his own style which, after a fling with cubism, begins to crystallize. Dufy is primarily known for his colourful paintings displaying joy of life, but this is only one aspect of his life's work. When in 1911 he meets one of the greatest fashion designers of the 20
th
century, Paul Poiret, he creates his first textiles.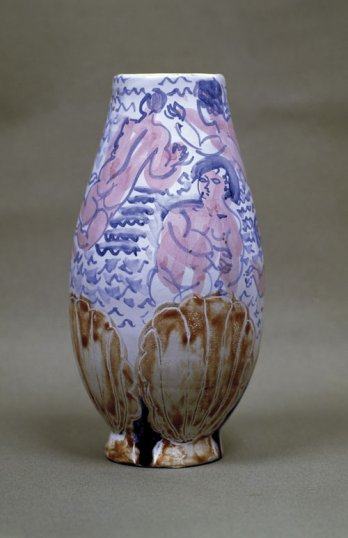 Raoul Dufy/Llorens Artigas_Vase with women bathers and shell fish_adagp
His first contact with the ceramic art dates back to 1922. From this year until the eve of the Second World War he designs numerous decors for the vases and miniature gardens created by his associate, the Catalan master-ceramicist José Lloréns Artigas. In hindsight, it may seem surprising that Dufy only took to this art form in 1922, the year he met ceramicist Lloréns Artigas. It is certain that he was aware of the search of the fauvist painters who, from 1905 on, had gathered around potter André Metthey in the short-lived École d'Asnières. Among those who began to get involved with ceramic decoration was Emile Othon Friesz, Dufy's closest and most loyal friend, who along with Georges Braque made up what Apollinaire pompously called École du Havre, of which they were in fact the only three representatives, being ex-students of the baroque Father Lhuillier, the director of the École des Beaux-Arts of Le Havre.
It is with a kind of timeless grace that he designs the exquisite illustrations for 'Le bestiaire ou le cortège d'Orphée' for Guillaume Apollinaire. These woodcuts are the lyrical reflections of poetry and correspond page per page with each quatrain, constituting a veritable iconographical echo of the poetic image. These engravings contain most of the themes which the painter will later develop in his research as a decorator of cloth and ceramics, as well as in his general work. This masterpiece was published in 1911 in 120 copies, and was a total failure. Only one man was savvy to the budding graphical virtuosity and extraordinary fertility of Dufy, fashion designer Paul Poiret.