Cai Guo-Qiang
I Want to Believe
F.G.R., July 27, 2009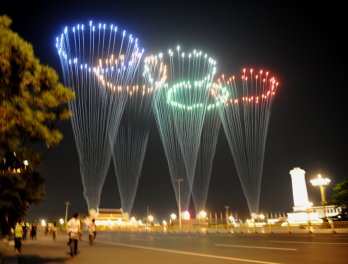 Cai Guo-Qiang/2008_Five olympic rings_opening
In Everything Is Museum
, the artist engages communities to produce art events in remote, non-art sites like military bunkers and old furnaces, such unconventional places generate unique opportunities for dialogue, while revealing the artist's fascination with utopian ideals, and his unshakeable belief in art and culture's capacity to transform. Everything Is Museum challenges the artists involved to produce significant works in alternative areas, in restricted, very basic conditions, with no security, no climate control, and even deprived of water or electricity.
Still in progress today, Everything Is Museum has a specific presentation at the Guggenheim Museum Bilbao, curated by the artist himself as part of the larger exhibition, and which includes documentary material and special contributions by artist Kiki Smith and composer and conductor Tan Dun; the exhibition also includes architect Lord Norman Foster's design for a new museum in the series, QMoCA, to be built in Cai's hometown of Quanzhou; artist Jennifer Wen Ma has created a new video installation specifically for Bilbao and responding to the museum's architecture. Everything Is Museum also presents realized and unrealized museum proposals for Guggenheim Museums worldwide, as developed by Thomas Krens during his tenure as director of the Solomon R. Guggenheim Foundation.
Cai Guo-Qiang/Cai crocodile sun, 2007
About the artist
Cai Guo-Qiang was born in 1957 in Quanzhou, a coastal city in the province of Fujian, in southeast China. The port city's remarkably rich history has been an essential source of inspiration for the artist's oeuvre. During the era of Mao, some customs prohibited in other areas survived in Quanzhou and stimulated Cai's childhood.
In the 1980s Cai studied stage design in Shanghai. In 1986, he moved to Japan, and in 1995, he moved to New York, where he lives today. Cai defines himself as a real "citizen of the world", which explains the weakness of cultural barriers so essential to his work.
In 1996 the work Cry Dragon/Cry Wolf: The Ark Of Genghis Khan , 1996 was a finalist in inaugural Hugo Boss Prize at the Solomon R. Guggenheim Museum, which acknowledges innovation in the visual arts and was a major catalyst in the artist's rise to international fame. It is among the highlights of the museum's contemporary art collection and was exhibited in Bilbao in 1999.
Three years later he was the recipient of the Golden Lion Award at the 48th Venice Biennale for the installation he presented at the millennium Biennale: Venice's Rent Collection Courtyard, 1999.
In 2007, Cai was awarded the 7th Hiroshima Art Prize. In tandem with the award, Cai's exhibition at the Hiroshima City Museum of Contemporary Art in 2008 featured the explosion event Black Fireworks , realized at Motomachi Riverside Park near the Atomic Bomb Dome. Video documentation of this work is also part of the exhibition in Bilbao.
Cai has achieved wide international recognition through his solo exhibitions and large-scale outdoor explosion events, his active participation in international art events, and his artistic contribution to the opening and closing ceremonies for the 2008 Olympic Games.
www.guggenheim-bilbao.es