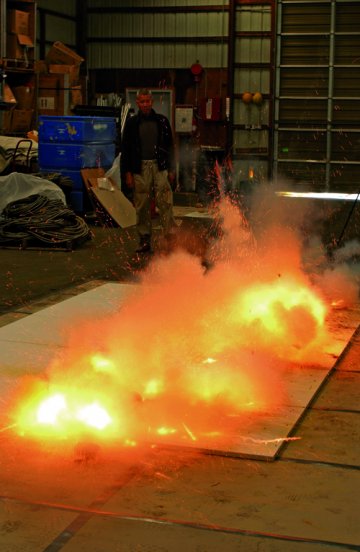 Cai Guo-Qiang
I Want to Believe
F.G.R., July 27, 2009
Cai Guo-Qiang: I Want to Believe, the first one-man show that the Guggenheim Bilbao Museum has devoted to an artist born in China.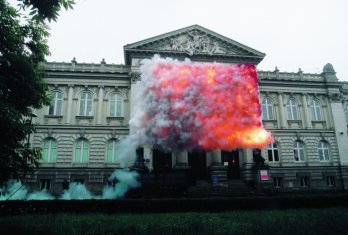 Cai Guo-Qiang/Red flag
Born in 1957 in Quanzhou, in the southern province of Fujian, Cai Guo-Qiang grew up in Mao's China. His overwhelming eagerness to get to know not only the art and sociopolitical reality of the country in which he was educated, but also the forms of expression in Western art made him leave his native country in 1986 to live in Japan and the U.S.
Cai is a global artist whose creations combine a multitude of references, influences and thoughts. The traditions and beliefs of Old China intersect in him with the contemporary world's global paradoxes and his own personal inclinations, such as observing outer space or technology.
It is no wonder that his principal artistic medium is gunpowder, which he uses in both delicate creations on paper as well as spectacular projects that spur on the public's collaboration. In a way, this medium embodies the crossroads between art and science, East and West, and allows him to create an enormously intellectual complexity that combines public spectacularity with socio-political dimensions.
The
Cai Guo-Qiang: I Want to Believe
exhibition is a retrospective that covers this artist's visual and conceptual vocabulary, which encompasses four media: drawings made with gunpowder, explosion projects, installations and social projects, more than 40 works ranging from the 1980s until now, selected from major public and private collections from the U.S., Europe and Asia.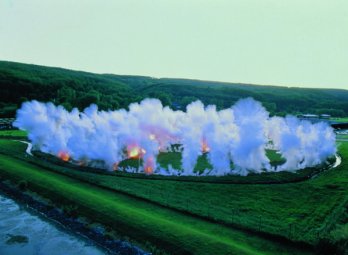 Cai Guo-Qiang/Fetus movement pet
The exhibition demonstrates his influence as a cultural producer of socially provocative shows for large audiences, including his recent work as an indispensable member of the team that planned the opening and closing ceremonies of the 2008 Beijing Olympic Games. To destroy so as to be able to create is the departure point of this transgressive, provocative artist, whom we have the chance to get to know in-depth at the Guggenheim Museum Bilbao.
The exhibition charts the artist's creation of a distinctive visual and conceptual language across four mediums: gunpowder drawings; explosion events; installations; and social projects. With some 50 works from the 1980s to the present—selected from major public and private collections in the U.S., Europe, and Asia—the exhibition examines Cai's significant formal and conceptual contributions to contemporary international art and establishes his influence as a cultural producer of socially provocative artworks for large audiences. "Cai Guo-Qiang has literally exploded the accepted parameters of art making in our time," said Thomas Krens. "
He draws freely from ancient mythology, military history, Taoist cosmology, Maoist revolutionary tactics, Buddhist philosophy, pyrotechnic technology, Chinese medicine, and contemporary global conflict."
Further, the spectacular installation Inopportune: Stage One , 2004 gives the Museum Atrium a special role in the show. The work consists of eight cars pierced by light tubes, arranged in a sequential circle that starts with an intact car on the ground and dynamically progresses into a cinematic simulation of the car exploding. Visible from the exterior of the museum, the work generates a direct dialogue with the museum's surroundings and Frank Gehry's architecture.