Post mortem
Ten creators rethink the funerary urn
Bettina Tschumi, July 13, 2009
Death and violence are omnipresent in the media and in our leisure distractions, from games to films by way of books, comic strips etc. Yet we avoid direct contact with the dead, with those lifeless corpses which make us feel uncomfortable, with which we do not know what to do and which confront us with our own fragility. From one continent to another, from one era to another, our diversionary tactics vary: over-elaborate ritualisation – drowning the deceased under the weight of the ornamentation surrounding his or her death – or, on the contrary, an aseptic and depersonalised relationship – making dead people disappear physically, scattering them to the four winds or placing their remains in a place away from our direct sight. What then should we think of the revival of interest in cremation, a practice in force among the Etruscans and the Romans in the West before it was condemned and forbidden by the Catholic Church, which decreed that burial was the absolute rule?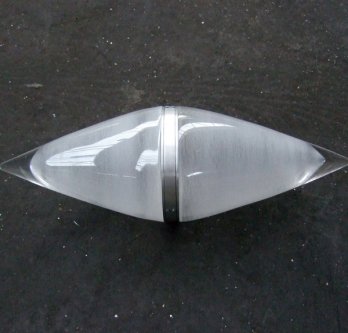 Hubert Crevoisier, urne funéraire, 2007-2008, verre soufflé et métal_Glasseworks
There are certainly general, extra-personal arguments in its favour, putting forward the over-occupation of cemeteries and the high price of the spaces there which have to be reserved far in advance. This kind of pragmatic motive is perhaps part of the reason for the popularity of cremation in Switzerland or the Netherlands by comparison with other European countries such as France and Italy. Land suitable for burials is after all rarer here than in other places, whether because of questions of surface area and relief or of geological typology: the Dutch polders, won with difficulty from the North Sea, are not the best places to bury bodies. It is also a matter of religion: the Catholic Church frowns on this practice, whereas the Reformed Church tolerates it,1 and both France and Italy remain heavily stamped by their Roman Catholic culture.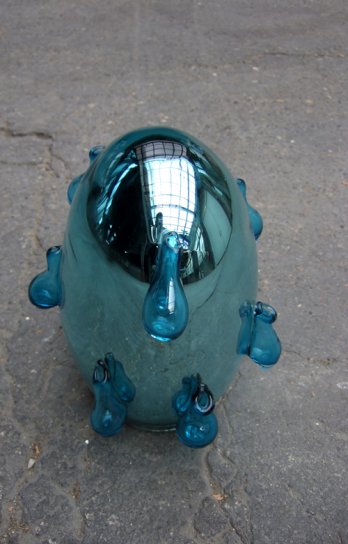 Jean-Michel Othoniel, urne funéraire, 2008-2009, verre soufflé_Glassworks
But, over and beyond these prosaic considerations, is not a relationship of a different nature with the dead revealed? And, speaking of urns, might not the fact that some people choose to keep them in their homes, at least for a while, indicate the existence of a revived type of link with our dead? The ambition behind the presentation of Post mortem. Ten creators rethink the funerary urn is not to answer these questions in an ethical and religious manner, but rather to explore – via the object – the way in which creation approaches cremation. Will the approach be frontal, explicit, like that of Pierre Charpin (p.1), who gives his two urns a human and vaguely disquieting form as well as a differentiated size – child, adult – that announces their usage without beating about the bush? Symbolic and baroque, like that of Jean-Michel Othoniel, who positions drops of glass on the body of the urn intended to collect the tears of mourners? Or will the approach be like that of Hubert Crevoisier, who has designed an urn consisting of two parts joined at the middle, conveying an image of a couple, siblings or any type of bond between two people who are close? There is also an allusion to a couple in the work of Mathieu Lehanneur, who plays on a number of reference levels. His two identical urns have a stylised form, reminiscent of heads topped by English bowler hats, which through its gentle roundness softens the drama of the purpose.