Graffiti
Born in the streets
Linda Chenit, June 29, 2009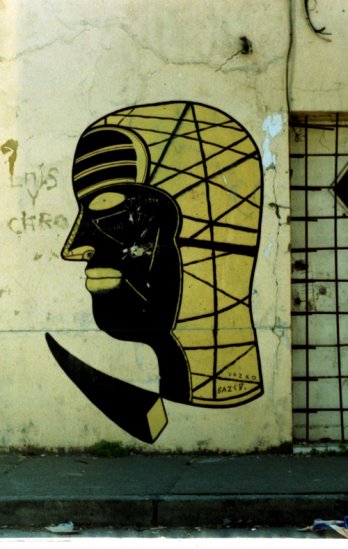 Enjaulado, 2008 Independencia, Santiago, Chilie Enjaulado, 2008 Independencia, Santiago, Chilie Enjaulado, 2008 Independencia, Santiago, Chilie Enjaulado, 2008_Independencia, Santiago, Chile_Basco-Vazko
The second part of the exhibition demonstrates the ongoing vitality of the movement through site-specific works created by a selection of artists from around the world: Basco Vazko (Santiago, Chile), Cripta (São Paulo), JonOne (Paris), Olivier Kosta-Théfaine (Paris), Barry McGee (San Francisco), Nug (Stockholm), Evan Roth (American living in Honk Kong), Boris Tellegen / Delta (Amsterdam), Vitché (São Paulo) and Gérard Zlotykamien (Paris).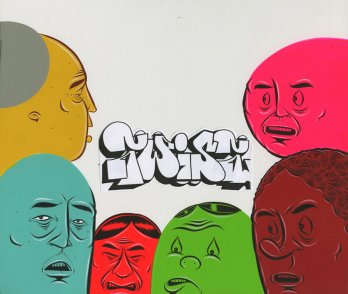 Barry McGee
Origins
It was in the late 1960s and early 1970s that audacious youth from Manhattan, the Bronx, and Brooklyn began to radically alter the ageold tradition of writing on public walls. Influenced by billboard advertising and comics, they created a new form of expression, which they called "writing", built around elaborately designed names and initials displayed on city walls, vehicles and subways. The graffiti movement in New York began with the tag, which represents the signature of the writer's chosen nickname, often accompanied by the number of his or her street address : Taki 183, Stay High 149, Barbara 62. In order to distinguish themselves, writers competed to develop highly original calligraphic styles, adding flourishes, stars and other designs to make their tags unique.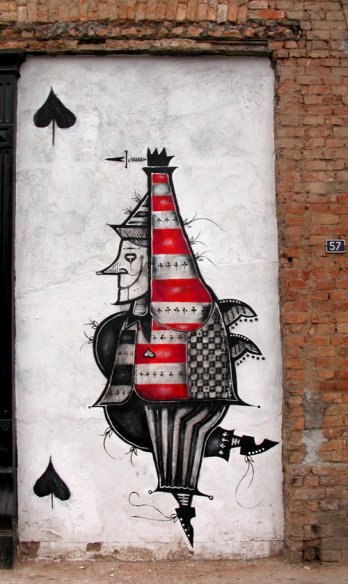 Allemagne_Vitche
Action Writing
In order to emblazon their tags across the city, beyond the limited boundaries of their neighborhoods, writers chose subways as their primary canvases. They gradually increased the scale of their tags until they covered the cars from top to bottom. The writers studied mainstream popular culture, eventually introducing comic book characters and complex lettering into their pieces in order to increase the visual impact of their work. Distinctiveness of line, shape, and pattern became important in the minds of the writers as they prepared their subway masterpieces in their sketchbooks. Producing pieces under difficult conditions compelled writers to hone their skills and turn the act of writing into a veritable art. The photographs of Jon Naar, Henry Chalfant and Martha Cooper presented in the exhibition, as well as seminal films such as Style Wars and Stations of the Elevated, are some of the only remaining traces of an art form that is by nature ephemeral.
By the late 1970s, these bold and passionate works captured the attention of visual artists, galleries and the media. Galleries in New York began to exhibit the works of writers, thus inviting them to switch to canvas. At the same time, Jean-Michel Basquiat and Keith Haring, who were not yet celebrated artists, were working in the subways and on the streets, connecting the gestural energy of graffiti writing.