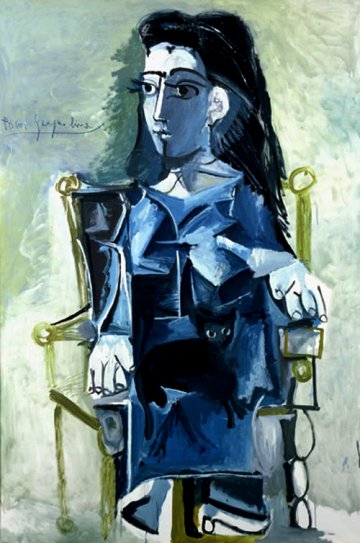 Picasso Cézanne
Picasso looks at Cézanne
Bruno Ely, June 22, 2009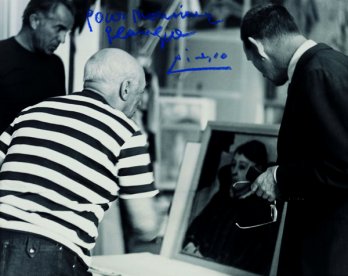 Jacqueline Picasso_Picasso regarde une oeuvre de Cézanne, entre Douglas
I'll say I know Cézanne! He was my one and only master! Of course I have looked at his paintings… I have spent years studying them
… (Picasso to Brassaï)
The
Picasso Cézanne
exhibition focuses on the subtle links between these two giants in art: the direct influence of the force of the "father of modern art" on the young artist arriving in France in 1900, or the mature musings of the man who liked to say I live with Cézanne? Even if it is not flagrant in his work, Cézanne was much admired by Picasso and often in his thoughts: Cézanne! He was like a father to us all.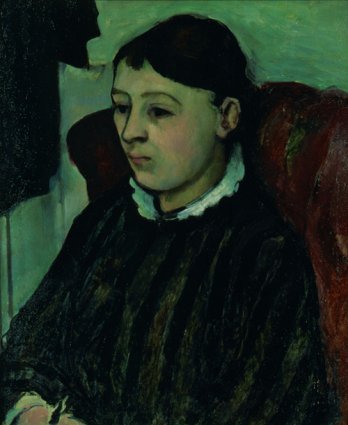 Paul Cézanne_Madame Cézanne en robe rayée, (1883-85)
After
Cézanne in Provence
(2006), the Communauté du pays d'Aix, the Musée Granet and the Réunion des Musées Nationaux are again partners in the organisation of an exhibition in Provence, at the foot of Mont Sainte Victoire. A tutelary figure that Cézanne approached step-by-step throughout his lifetime, but which Picasso embraced energetically, just fifty years ago, not by painting it, but by buying some 2,500 acres on its northern slope and living in the famous castle of Vauvenargues, in the shadow of the sacred mountain. The anecdote is well known: I have bought Cézanne's Sainte Victoire, Picasso told his art dealer Kahnweiler in 1958. Which one? asked Kahnweiler, thinking he was talking about a painting. The original, came the facetious reply.