The Minimalism in Ornamentation
Making a comeback to bolster design and conquer new markets
Jean-Marc Barbier, June 3, 2019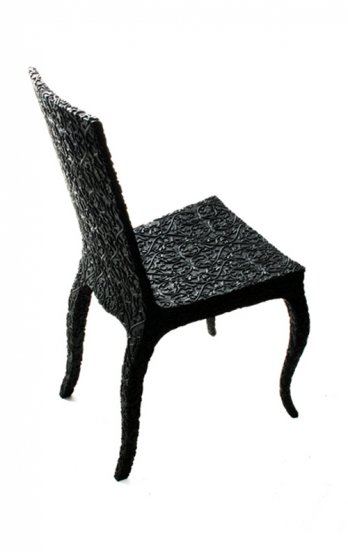 Carved Chair", création de Marcel Wanders
The increasing number of joint projects between high quality, traditional workshops and the fresh energy of outside projects, generally spectacular ones, also have the advantage of attracting new customers to these established brands. This can be either due to healthy curiosity or by an interest in investing in something original and rare. Ornamentation very naturally adds a special touch to a workshop's know-how and a designer's creativity. This is demonstrated by recent products by the Baccarat glassmakers with the Spanish designer Jaime Hayon (2009 VIA Label) or by the Portuguese porcelain manufacturer Vista Alegre with Sam Baron. As they attempt to make products that stand out from their competitors' (especially when these competitors are from abroad and can produce more cheaply), producers and manufacturers have everything to gain from giving designers carte blanche, as can be seen from the elegant patterns of Patricia Urquiola's furniture for B&B Italia Outdoor.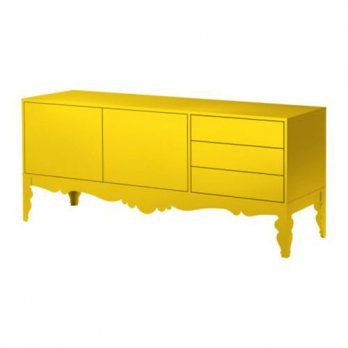 "Trollsta" sideboard, design by Hanna Brogård.
"This is all the more true because technological progress, in particular developments in graphic art (transfers from film, silkscreen printing, sublimation, laser and water-jet cutting) make it easier to produce decorative effects industrially, often aided by computer, making it possible to produce a range of variations at no extra cost," Gérard Laizé explains. The Versailles table (2008 VIA Label) brought out by Compagnie has a Ductal® concrete tabletop (Lafarge) that reproduces matt and gloss effects (inspired by an embroidered tablecloth) used a special mould. A whole generation of designers are working to design products that are affordable and/or offbeat. Now that they no longer have the pressure of minimalism bearing down on them, they have introduced decorative effects and ornamental details into their vocabulary to express their own personal style. "When we set up Ibride eight years ago, we wanted to move away from a formal Esperanto and a hyper-industrialisation to write our own story," say Rachel and Benoît Convers. They combine "the ornamental and the useful to give every object two uses, one when it's not being used and the other when it is." Their ancestral portrait trays are made from a laminate that has been digitally printed. Their Mobilier de Compagnie in solid laminate has been cut out using a digitally controlled device. "We wanted to give living forms a contemporary function." Radi Designers have also drawn inspiration from animals with their Whippet Bench whose "shape was generated by extruding the profile of the dog; the covering is printed by sublimation." The Vase-Vase bud vase uses "a trompe-l'oeil effect created by an optical film which duplicates the image of a bud vase placed inside a large glass cylinder".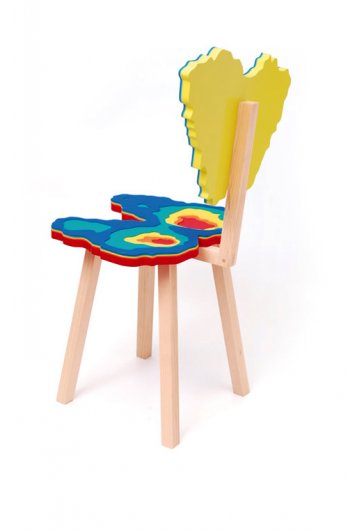 Valet de chambre "Size clone", collection Cloning, création 5©5 Designer
The material is rendered even more beautiful by technology. For Cinna, a simple shiny stainless steel tabletop by Martine Poulet has been decorated with a delicate matt design by laser. For SCE Editions, delicate floral patterns have been cut out of the white lacquered metal lights for the Solène collection (2008 VIA Label) designed by Valérie Boy using a laser. Arzu Firuz uses everyday materials such as vinyl and, more recently, (polypropylene) plain truck and building site tarpaulins in unexpected ways, cutting elegant patterns from his mixed French and Turkish heritage into them ; "they can be used to curtain off part of a room while still allowing a play of light." The sideboard from the Spider collection at Roche Bobois has interior lighting that highlights the decorations engraved on the solid Corian doors.