The Minimalism in Ornamentation
Making a comeback to bolster design and conquer new markets
Jean-Marc Barbier, June 3, 2019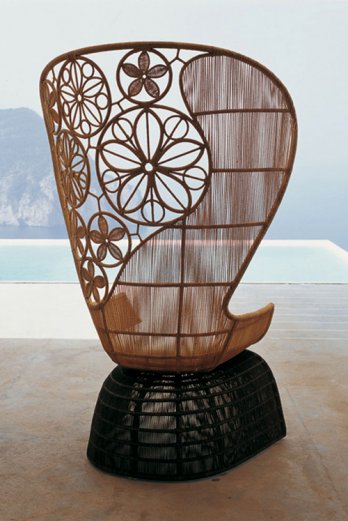 Fauteuil "Crinoline", création Patricia Urquiola.
This trend is confirmed by Forum Diffusion (www.forumdiffusion.fr) where François Basilien, the showroom manager, has noticed "a return to richer forms. This is a response to realism based on the cultural fusion between contemporary product lines and the furniture and accessories the customer has inherited. This is an important change that involves swapping the fashionable for products whose ornamentation functions as a link and gives the home more soul. Consumers are looking for good quality products that last. And although there are less orders, individually they are tending to cost more." We need to mull over Jean-Michel Franck's "luxury of nothing" in the words of François Mauriac as reported by Jean-Louis Gaillemin. At Serpette and Paul Bert (Saint-Ouen flea market), the traders show no hesitation in collectively promoting the extravagant 19
th
century cave and garden furniture. At the Bergé-Saint Laurent auction, Eileen Gray's Dragon Armchair, which has nothing minimalist about it, sold for 21.9 million euros, a record for a piece of 20
th
century decorative art. This goes to show how rare it is, but also of the current level of enthusiasm for this type of object.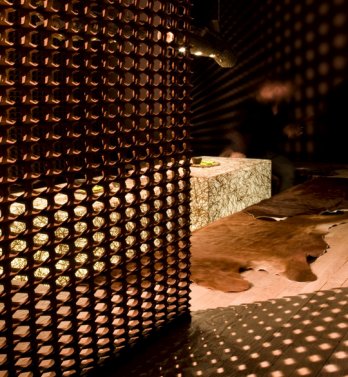 Store "Parametre", 3Form.
Some designers, like Olivier Gagnère (www.gagnere.net), Mathias (www.mathias-paris.net) and Hervé van der Straeten (www.vanderstraeten.fr) have followed their own thoughts and been pas-de-deuxing with ornamentation for years. "Against the current of the diktats of good taste but consistent with the narrative world in which I grew up midway between East and West," explains Jean Boggio. He is a trained jeweller and goldsmith and shows great optimism as he casts his luxuriant motifs in bronze or porcelain - "the best antidote in times of crisis". Thomas Boog has taken a similarly unusual path; for the last twenty years, he has been working shells and coral into "works that are always practical". Enthusiasts of his curios send orders from all over the world via Internet. "I'm sure they're not just following like sheep; you can't force people to spend their money on shells!"
Outline mirror, design by Piero Lissoni
These are free spirits in the same way Marcel Wanders is. François Basilien emphasises that "this new cultural fusion between the classical and the contemporary is to a great extent down to him." Jean-Louis Gaillemin goes further: "The new stars of the current international design shows, from Miami and Basle to Milan, are those who finished top of the class at the Eindhoven school […]. The dry humour of the Dutch is popular all over the world." Droog Design is designing more and more mischievous products where ornamentation is entirely, but unexpectedly, justified, such as the now famous radiator by Joris Laarman. Staying in the Netherlands, t.e. (Thomas Eyck) has initiated an approach with a double stage trigger. Several designers have been invited to come up with ideas that make use of both the know-how and the materials of local manufacturers. This exercise - which can only benefit the Made in Holland brand - allows everyone to give free rein to his or her imagination.