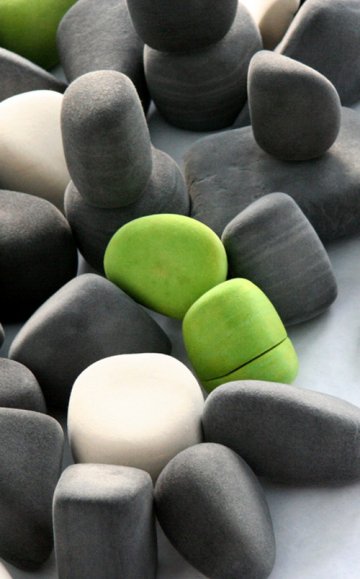 Fashioning Felt
Raw Material
Laurie Olivieri + Jennifer Northrop, May 25, 2009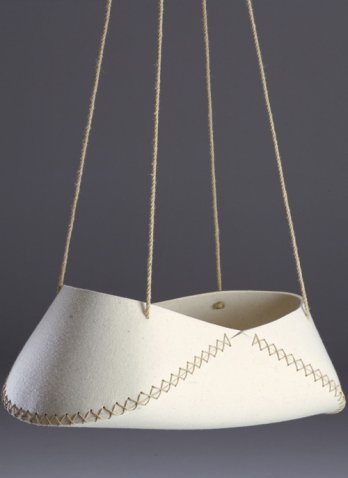 Fashioning Felt/Swing Low cradle. Designed by Søren Ulrick Petersen. Produced by SUP Design. Denmark, 1997. Wool felt, hemp rope_Erik Brahl
The Smithsonian's Cooper-Hewitt, National Design Museum presents
"Fashioning Felt,"
a comprehensive overview of the varied uses of felt in contemporary design,

"Felt has played an important role in nomadic cultures for millennia and this exhibition will explore its origins and bring the material fully up to the present,"
said Director Paul Warwick Thompson. "By examining both the conventional and nontraditional uses of felt over time, the exhibition will spotlight its unique characteristics and provide an extensive look at this ancient material with modern appeal." Made from a renewable resource, the manufacturing of felt is low-impact and virtually waste-free; it is made simply by matting together wool fibers with humidity and friction. The methods of matting felt vary widely, from handmade versions created by violently slamming a fleece roll against the ground to industrial felt produced by mechanically rubbing together wool fibers, but all involve extreme agitation and pressure in order to compact and shrink the felt.
Fashioning Felt/Central Library, Amsterdam, the Netherlands, 2007. Architect_ Jo-Coenen & Co. Architecten. Felt walls designed and made by Claudy Jongstra. Wool, silk_Peter Cuypers
Unlike other fabrics made from wool, which are built up stitch by stitch and row by row through practices such as knitting and weaving, felt has no internal structure. The manufacturing process is readily customizable, and the finished product has a versatility rarely found in other materials—it can be made flexible and translucent or very dense and hard; it can be cut without fraying and molded into threedimensional forms. Felt also provides protection against extremes of temperature and is naturally water repellant, windproof and fire retardant.