NAVIN RAWANCHAIKUL
SUPER CHINA!
Christelle Maureau, April 27, 2009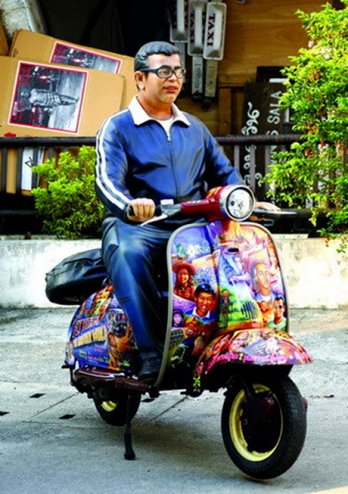 Navin Rawanchaikul_Super China!/Navin on Moto.
Navin Rawanchaikul Bio_Express
Navin Rawanchaikul (b. 1971, Changmai, Thailand; lives and works in Fukuoka, Japan and Changmai) is a Thai citizen with permanent resident status in Japan whose ancestral roots are from the Hindu-Punjabi communities of present day Pakistan. As an artist, Navin has developed a unique and vast body of works that rely heavily on team spirit and collaboration, and are most often produced under the banner of Navin Production. His artistic development began with works deeply rooted in local communities and everyday life experiences. In 1995, he initiated the landmark project Navin Gallery Bangkok, in which an ordinary Bangkok taxicab was transformed into a mobile art space. Its great success prompted several versions of the Taxi Gallery around the world. Embarking upon more international presentations of his work, Navin started to engage in a process of exploring the negotiation between local circumstances and trends of globalization. Following this path, the artist has become renowned for dynamic art works which involve direct community interventions, social commentary, and an innovative style of integrating community or individual experiences into eccentric fictional tales featuring recurring characters. His oeuvre has grown to encompass a broad array of media, including installation, film, performance, billboards, comics, games and community-based art practice.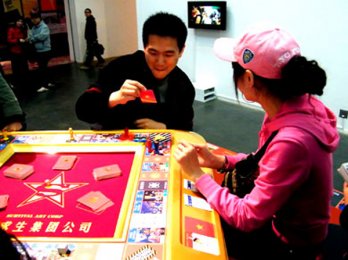 Navin Rawanchaikul_Super China!/SuperChina
Navin has held solo shows at prestigious institutions including New York's P.S.1 Contemporary Art Center (2001), the Palais de Tokyo in Paris (2002), Jim Thompson Art Center in Bangkok (2006), and Tang Contemporary Art, Beijing and Bangkok (2007), as well as being included in many international exhibitions, including the Shanghai Biennial (2002); Busan Biennial (2002); Sao Paulo Biennial (2004), Liverpool Biennial (2004) and the Yokohama Triennial (2005), among others. The first artist's retrospective exhibition was organized in 2008 at Bangkok's The River Promenade, held in conjunction with the launch of the much anticipated collaborative monograph, Navin's Sala.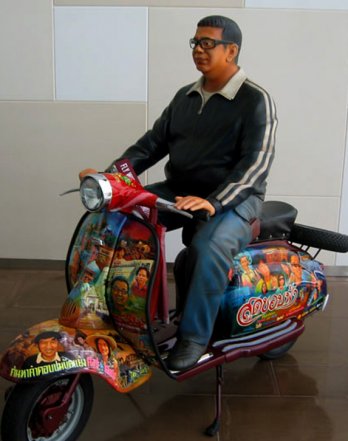 Navin Rawanchaikul_Super China!/navin-moto.
www.ucca.org.cn