CONNECTIONS
100 textile objects from the museum's own collection in their (cultural-) historical context
Bernadette Deloose, April 20, 2009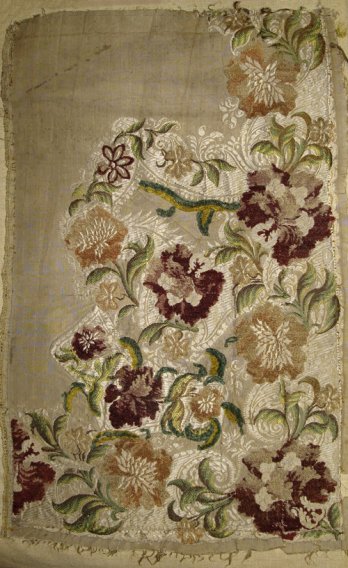 Connections/Fabric fragment (with drawing woven in) for male waistcoat, Silk_1730-1740.
Another area of application is interior decoration with varying objects including a damask napkin in commemoration of a victory won by Louis XV, a canopy bed curtain cloth, a partition cloth for a tent woven by Kurdish women. Only the finest was deemed worthy for religious ceremony; a fact proven by an embroidered chasuble or the lace of an alb, among other things. The fact that textile education was given both to young girls and to future professionals is evident from needlework samplers or the "texotheque", a collection of fabrics used for documentation purposes in textile knowledge classes given in the previous century at the "Hogere Nijverheidsschool" (Industrial High School) of the time.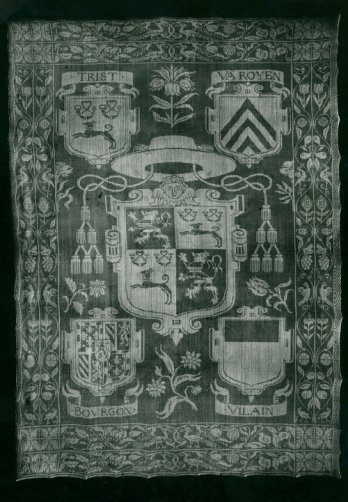 Connections/Napkin of Antonius Triest, bishop of Ghent_Linen Damask_Kortrijik, 1622-1657
Many textile items are anonymous. The authors or manufacturers of the more recent objects usually are known, however. The works will be on display according to design and/or execution and are authored by a great number of famed and less-famed artists and designers: Henry van de Velde, Albert Van huffel, Mabel Sarton-Ellwes, Gabrielle Canivet, Jacques Bergmans, Jules Boulez, Eric Bagge, Gaston Woedstad, Eszter Haraszty, Herman Lampaert, Lutgarde Lescouhier, Marc Mendelson, Janine Kleykens, Ingrid Six, Marc Van Hoe, Alessandro Mendini, Agnes Stevens, Martine Gyselbrecht. The manufacturing centres, companies or workshops represented at the exhibition are: de Manufactuur van Bromley, Voortman, Soc. Anonyme Texas, L. Thienpont et fils, De Smedt Frères, Waesland, L'Art Décoratif Céline Dangotte, Studio Elisabeth De Saedeleer, Etvelor, Knoll International, Usines Cotonnières de Belgique, Goeters Ars et Labor, Solintex, Ter Molst.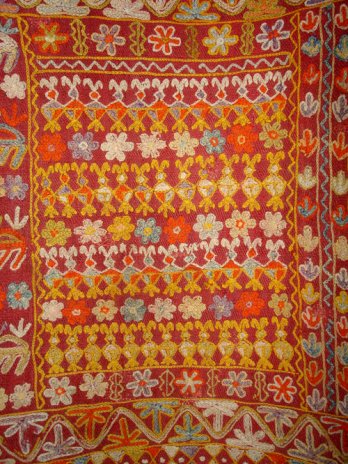 Connections/Embroidered cloth for interior_Arabian population groups of South-Iraq, before 1978.
design.museum.gent.be