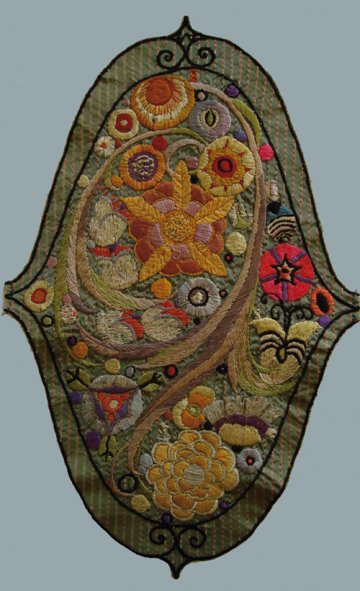 CONNECTIONS
100 textile objects from the museum's own collection in their (cultural-) historical context
Bernadette Deloose, April 20, 2009
Design museum Gent
possesses textiles from the 15th century until now, mainly from Western Europe. One hundred items were selected from this rich collection, of which a great deal are exhibited for the first time.
Textiles (fabric, embroidery, lace, passementerie...) are created by connecting fibrous materials in various possible ways. The selected connection method will determine the look of the textiles. From a magnificent top in silk and gold thread to a lowly cotton cloth: the selected objects are each connected in their very own way, and sometimes in more than one way. The textiles illustrate an artistic movement, are reminiscent of a moment in history, give voice to a political stance. The objects are connected with people: artist, craftsman or craftswoman, client, recipient, collector, donator. But also with the city of Ghent: its history, its textile education and textile industry, with the Museum and with the people who endeavoured for the collection at the Museum. The selected textiles connect the past and the present as a source of beauty, knowledge, inspiration.
Connections/Child's frock_Silk, embroidered_Mabel Sarton-Ellwes for L'Art Décoratif Céline Dangotte, Brussels 1910-1914
One major focal point in the selection process is diversity. The Museum owns few non-European textile items as these were never purposefully collected. Some of these items are exhibited. Western art, however, was regularly inspired by outside influences. Exoticism is a recurring theme: the fascination for the Orient, for instance, is evidenced by the passion for all things Chinese. Throughout Western textile history non-western patterns and motifs such as pomegranate were diligently incorporated. Typical techniques from other cultures such as batik or techniques with faraway origins in another culture such as macramé, were practised here. Here too numerous connections are identifiable.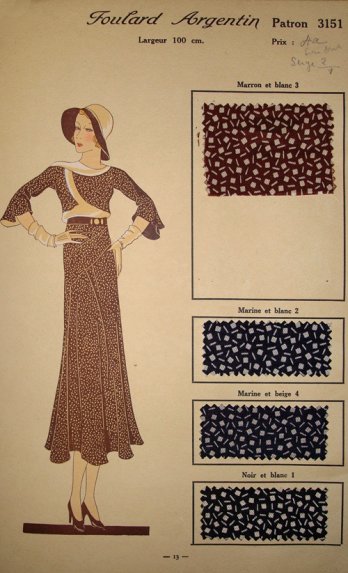 Connections/Sample card for silken clothing fabric, France, 1932
In the presented textiles highly different materials were processed with animal (wool, silk), vegetable (linen, cotton) and synthetic origins. Besides this a vast array of techniques is represented: weaving, carpet knotting, embroidery, lace, braiding and knotting, crochet, printing and painting of textiles, batik. Many pieces at the exhibition were preserved in cut-down forms as samples, fragments, patches, strips. But even in their fragmentary state they are still highly prized pieces, such as a magnificent embroidered skirt hem of a ceremonial dress. All the same a great many fine pieces did reach us in a complete state. Textile has the most varied applications. Textile pieces for clothing will be on display such as lace lappets, dainty dresses or even a Turkish turban cover cloth.