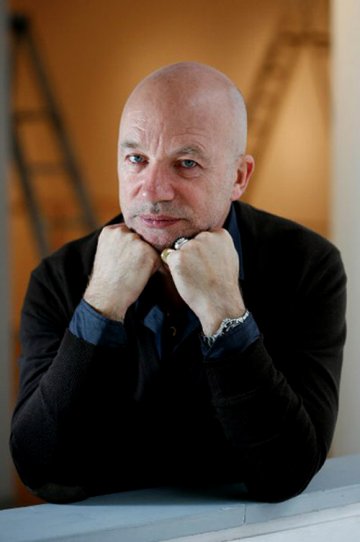 Nigel Coates
Body as a metaphor of architecture...
Fl. Z., May 29, 2015
Architectural_Portrait

Nigel Coates is born in 1949 in England. From 1972-74: Architectural Association School of Architecture, A.A dipl.
 From 1979-89: Unit Master of Unit 10 at the A.A.
 In 1983: Formed NAT0 (Narrative Architecture Today) with Catrina Beevor, Martin Benson, Peter Fleissig, Robert Mull, Christina Norton, Mark Prizeman, Melanie Sainsbury and Carlos Villanueva. The same year, edited the first NAT0 Magazine
. In 1985: Formed Branson Coates Architecture with Doug Branson
. In 1995: Appointed Professor of Architectural Design, Royal College of Art.
Fl.Z. interviewed Nigel Coates, one of the most eclectic personalities on the international architecture scene. The interview represented a unique opportunity to take a closer look at Coates' theory about the human body as a metaphor for architecture as well as at his vision of the city.
Fl.Z: Nigel Coates, your work spreads from architecture to design, art to media, not to mention your academic activity. Which of these fields inspire you the most and which one do you feel closer to your sensibility? 


Nigel Coates:
As I get to know myself quite well, over all these years, I think it is the mixture of all of them that it's inspirational because I am quite a difficult person when it comes to following a straight path. I like invasions from the left and the right. So, if I set out to do architecture it's probable that there's going to be an idea that comes from another field and vice versa, that's just the way I work.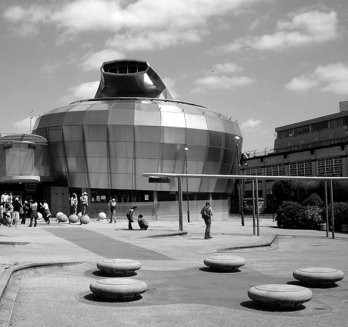 Nigel Coates/sheffield_ncpm
Fl.Z: One of your most recognisable architectural works is the Body Zone in the Millennium Dome, a physical representation of the human body that becomes architecture. What is the basis of your theory that considers the body a metaphor for architecture?


Nigel Coates:
Well, of course the figure in the Millennium Dome was an extreme representation of the human body it actually looked like one, but there are a lot of other works and other ways in which the body can have an influence on architecture, and I first came to this idea because I think that modernism and the architecture of the 20
th
century often created a gap between the way people used it and saw it and what it was and how it was produced. So, it doesn't make a huge depth to actually try to export the body from ourselves into the architecture. There are many experiments that I made before the body in the Dome. It just so happened that they had already wanted to have a body in the Millennium Dome to describe what we are, and it was a good fit for me. 


Fl.Z: It was perfect!


Nigel Coates:
Well, I'd done drawings earlier, many drawings that had large bodies that were woven through an urban context, ten years before I did the figure in the Dome.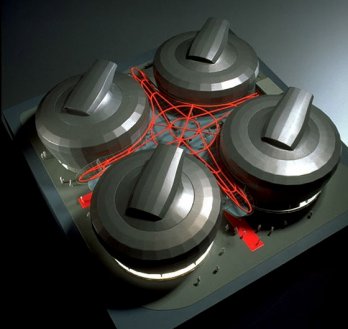 Nigel Coates/NCPM-model
Fl.Z: You said that "Body Zone" was an opportunity for you to experiment with digital technology in architecture and to create big human body shapes.

Nigel Coates:
Well, we explored all sorts of ways in which the body could be formed and built and that included digital scanning of bodies, included my own and friends of mine; I made clay models like the traditional process that a sculptor might adopt, and those clay models were scanned...it was a kind of to and fro process between a conventional artistic one and a digital one.


Fl.Z: "At Home in the Modern World", represented at the last Venice Architecture Biennale, is your latest experiment in the research on the relationship between the human body and architecture. Would you consider that installation a synthesis of your theories?

Nigel Coates:
Well always the last one is the best synthesis you have. It certainly attempts a different approach and one of the purposes of this piece was to explore the relationship between real bodies moving, furniture as body and as landscape and a deliberately cerebral or fanciful idea of architecture. So there's a certain kind of inversions and perversions of these various media that are present within that work. But if I think back to how it was created, it was made simultaneously through the furniture objects, the dance that was present in the film and these little cities that were represented on top of the lamps that were floating in the space and it was a kind of ricochet process between those three and in a way that's how anyone designs, is by a process of putting forward an idea and then adapting it but I suppose in that work it had a dynamic system within it, which could manifest the body in various ways. The dance, for example, was initially choreographed with pieces of my furniture in the studio, the dance studio, the first day I asked the dancers to dance as it were, around, on and with some...an old set of furniture I had and the second day we took the furniture away and, at the same time, I was developing the forms for the furniture that eventually got built but they were influenced by the dance so it's kind of an exchange of ideas.