FIFA : The splendour continues!
27th International festival of films on art
E.D., March 16, 2009
FIFA/El Cerrito
EL CERRITO
During the fifties, Caracas was one of the most prosperous cities in Latin America. Its modernist fervour was reflected in new styles of architecture that broke with the past and embodied the economic boom. Local couple Armando and Anala Planchart, both lovers of modern art and architecture, called on Italian architect Gio Ponti (1891-1979)-one of the most influential artists at the time-to design their new home. Ponti, an industrial designer, teacher and the founding editor of architecture magazine Domus (1928) as well as an architect, enjoyed a colourful career spanning more than half a century, and played an active role in the post-war revival of Italian design. Though he initially declined the Plancharts' request, he eventually agreed to take on the challenge. He travelled to Venezuela and fell in love with the country. He also became very close to the couple, embarking on what was to become an exemplary client/architect relationship. The early design stages in particular were marked by frequent correspondence between both parties, each in their respective country-a unique occurrence in the history of 20
th
-century architecture. The resulting La Quinta El Cerrito or Villa Planchart, which overlooks Caracas, is considered one of Ponti's masterworks. In remarkably good condition, it houses all of the decorative objects and furnishings designed or carefully chosen by Ponti, according to the modernist principle of integrating the arts with architecture.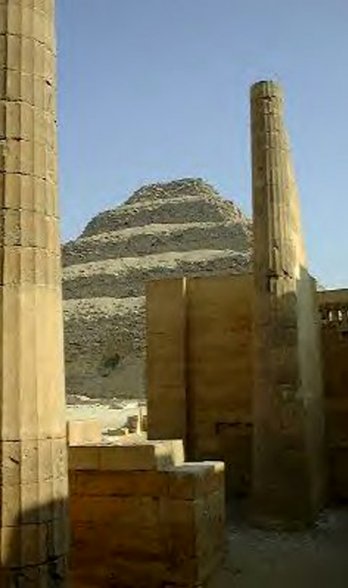 FIFA/LA PYRAMIDE DU ROI DJOSER À SAQQARAH
LA PYRAMIDE DU ROI DJOSER À SAQQARAH
Egypt's oldest pyramid, the Step Pyramid of Djoser at Saqqarah, which dates back to 2600 BC, conclusively marks start of architecture as a learned practice as distinct from mere construction. The site denoting this distinction is a funeral monument whose symbolic function takes precedence over its utility. From its very inception, then, architecture asserted its cultural and symbolic character. Located some 30 km south of modern-day Cairo in the eastern Nile Valley, Saqqarah served as the necropolis for Memphis, the first Ancient Egyptian capital, of which nothing remains apart from this immense cemetery, dominated by the 60-m high Djoser step pyramid. Built by the architect Imhotep-who was later deified-the pyramid is the central feature of a vast mortuary complex in an enormous (400 x 100 m) courtyard. It was the largest structure of its time. The nascent art of architecture was also notable for its use of a new material: not wood or earth, but cut stone.
From March 19 to 29, 2009
www.artfifa.com