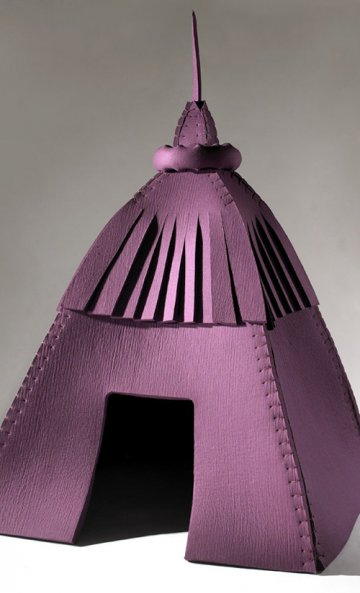 Laure Tixier
Plaid Houses
Valerio D'Alimonte, February 23, 2009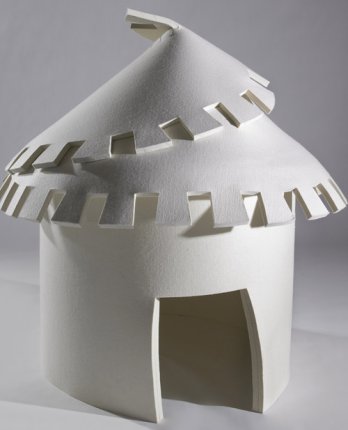 Laure Tixier/Series of nine sculptures_FeltDiametergallery
Questions concerning habitation, architecture and urbanism underpin Laure Tixier's work. In her drawings and videos, the artist focuses mainly on the Utopias that have accompanied the development of human society, revisiting them with humour. The
Plaid Houses
project, created for Mudam, began with a series of drawings developed by the artist as an index of dwellings from different cultural, geographical and historical contexts, from huts to futurist architecture via the Mongolian yurt and the modernist avant-garde. Inspired by the ''first architectural fictions'' constructed by children using blankets, Laure Tixier created nine architectural forms in felt. The project
Plaid Houses
is being presented in the Grand Hall of the museum and is accompanied by an exhibition that unites several previous projects by the artist, including the Siphonophores and Dolci Carceri series of drawings, along with the video Toontown Année Zéro which is part of the Mudam Collection.
Plaid Houses
inaugurates the Habiter project, a series of commissions for the Grand Hall of the museum presented throughout 2009.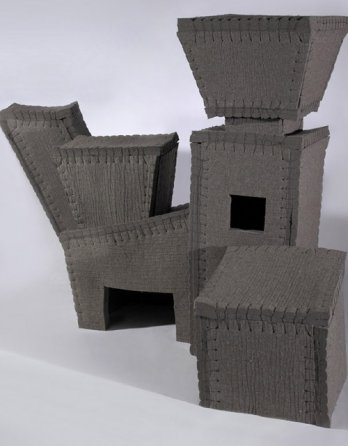 Laure Tixier/Series of nine sculptures_Feltgallery
The autopsy of an habitable…exhibition
Dolci Carceri, 2002 - 2005
The series Dolci Carceri contains the blending of an architectural utopia and a universe linked to childhood. This series of drawings was inspired by the famous "imaginary prisons" of Giovanni Battista Piranesi (1720 - 1778). Here Laure Tixier has replaced the constructions of the original engravings with structures made of marshmallows and liquorice sticks. These drawings suggest a dreamlike universe in which sweetened visions from the world of children and enigmatic portrayals from the prison world of Giovanni Battista Piranesi confront one another.