Design available for production
13 VIA Projects Assistance Grants
Yves Gradelet, February 16, 2009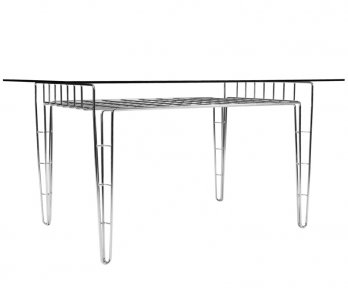 Antoine PHELOUZAT_Tablemesh, 2009_Marie Flores
Antoine PHELOUZAT - "Mesh" table
Mesh offers many functions: storage, meals, work. Its resolution relies on the same industrial technology as that used for building supermarket trolleys. Mesh transposes this technology in open-ended configurations suited for the home, going beyond the dimensions generally used for this fabrication process. The steel mesh is either coated with Epoxy paint or an electro-polished stainless steel finish, both solutions having no toxic chemical agents.
Renaud THIRY_Corniche, 2009_Marie Flores
Renaud THIRY - "Corniche" suspension
The components of this piece are made using the industrial process for extruded aluminium profiles. Renaud Thiry integrates these profiles to interior decoration as mouldings, reinterpreting their aesthetic codes. The decorative aspect is imparted by both profile and colour, which enter into dialogue with furnishings and architecture. Functionality is enhanced by including a fluorescent tube in each segment of Corniche. Feasibility of installation is studied before cutting the profile, after which the semi-finished product is mounted on site.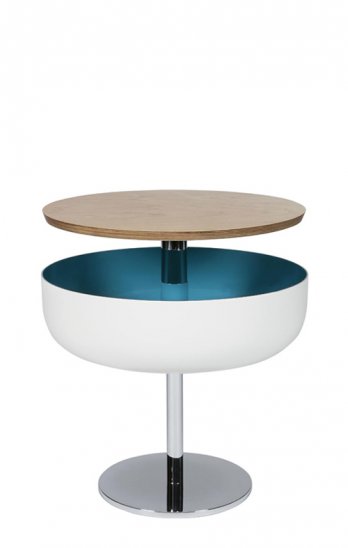 Marc VENOT_Pelican, 2009_Marie Flores
Marc VENOT - "Pélican" bedside unit
Marc Venot explores body movements and storage needs for everyday objects in bedsisde table contexts. A simple hand movement activates rotation of the receptacle on a central axis, and opens the compartment. Ditto for closing. The fixed plateau serves as hood and table top. Pelican is made of wood and chrome steel finish for exterior, with lacquer finish inside. The principle adapts in dimensions and extends to other uses.
www.via.fr