Los Angeles (1865-2008)
This Side of Paradise
Jennifer A. Watts, June 20, 2011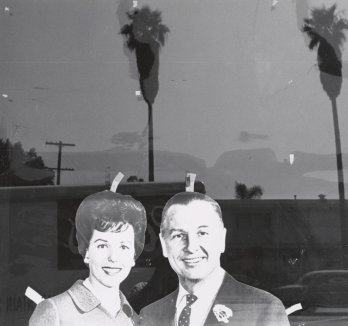 Le Paradis, ou presque_Los Angeles (1865-2008)/Garden_FRIEDLANDER_LA
MOVE
No city on earth is as powerfully identified with the car as Los Angeles. Networks of freeways and boulevards crisscross the region, extending into every corner of Southern California. Next to beaches, earthquakes, and balmy weather, freeways are the region's great signifiers, linking suburbs and foothills with vast areas in between. The early streetcar system provided the template for these corridors of mobility. By 1920, the city claimed one car for every 3.6 residents, a statistic well above the national average. Thus began Los Angeles's unrepentant love affair with the automobile, forever changing the ways in which the place was envisioned, experienced, and visually framed. Seen through the windshield and rearview mirror, the city zips by in disjunctive leaps, reminiscent of the fast-paced sequencing of modern mass media.
The region's dominant car culture gave rise to the trite maxim that "no one walks in L.A." But the meandering footpaths and trails of the early city are often hidden in plain sight, displaced in the mind's eye by pictures of lone walkers amid clipped suburban lawns. The ambling of those on foot makes the constant motion around them seem all the more compelling.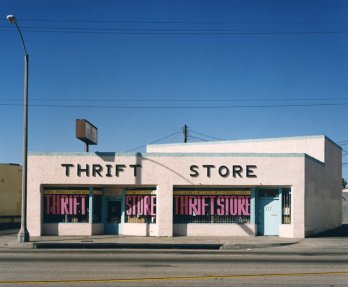 Le Paradis, ou presque_Los Angeles (1865-2008)/152 Humble_719 Lincoln Blvd
WORK
Photographs of Los Angeles inevitably speak of a complex place ⎯ an industrial center wrenched from a rugged Mexican past, a city of ethnic and racial tensions, proud to be considered emblematic of the nation's stride into the future. Photographers have long represented Los Angeles through its myriad industries: agriculture, construction, manufacturing, oil refining, shipbuilding, and motion pictures. All were depicted as quintessential Los Angeles pursuits, linked to the region's climate, topography, and the realities of work.
Spectacular urban growth provided ample subjects for image-makers, who trained their lenses on every conceivable aspect of economic expansion. Their project was often one of gleeful boasting, celebrating the city's assets as inevitably tied to production and the good life. Only a few dared show the darker side of Los Angeles labor in which violent unrest and social inequities play sobering parts.
Yet it is the culture of Hollywood that remains at the center of some of the city's most resonant imagery. Celebrities shown in both natural and highly stylized settings established the standard for glamorous sophistication that endures to this day. Often photographers ventured behind these glittering facades to comment on the film industry's blatant deceptions. Others focused on the struggles of ordinary citizens trying to make ends meet in the City of Angels.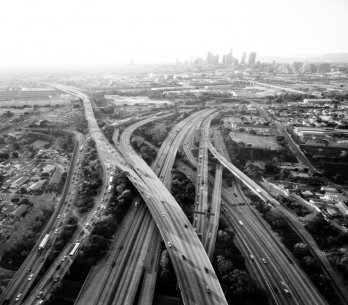 Le Paradis, ou presque_Los Angeles (1865-2008)/Move Light From Los Angeles
DWELL
Greater Los Angeles is less an accidental "city without a center" than a planned grid of interconnected urban hubs. "The map of L.A. is never complete," one observer noted in 1923, as urban sprawl devoured fields and orange groves. Vernacular dwellings spread across the Southland like ragweed, thanks to abundant land, cheap labor, and consecutive population booms.
The single-family home, then as now, reigned supreme. Houses in Los Angeles come in every conceivable style, from bungalow to Mission Revival and Tudor, reflecting the eclectic origins of the city's newcomers. Photographers have reveled in the flimsy facades of strip malls, office buildings, and ubiquitous "dingbat apartments" that define the city's modern incarnation.
Race and class have long determined how and where one lives in Los Angeles. Restrictive covenants pushed racial minorities into segregated neighborhoods well into the 1940s. For the more affluent, architects and builders envisioned homes made for leisurely indoor-outdoor living, creating national trends for middle-class life. The city's poor dwell outdoors as well, as pictures of Depression-era shanties and present-day homelessness readily attest. The downside of the Los Angeles dream is nowhere more poignantly revealed than in photographs of urban nomads seeking shelter in the most potent symbol of Los Angeles — the car.