David LaChapelle
Retrospective
Gianni Mercurio + Fred Torres, February 9, 2009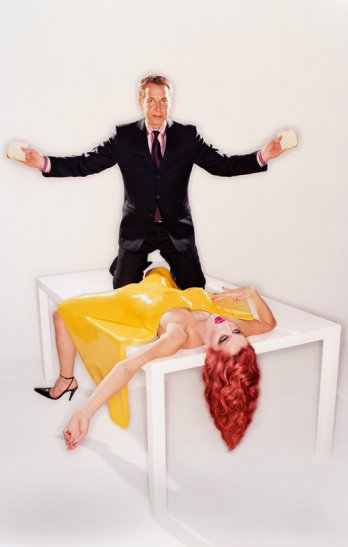 David Lachapelle/Jeff_Koons-Sandwich_2001
RECOLLECTIONS IN AMERICA
These photos from the seventies show groups of friends meeting up for family parties and other occasions. LaChapelle's manipulation of the photos analyzes ironically the American middle class and its own values.
ACCUMULATION
The drive for affluence, produced by advanced capitalistic cultures, and the easy access to every kind of consumer good, create the conditions for a kind of compulsive neurosis for accumulation: buying, collecting objects of all sorts, sharing in a limitless network of contacts and interpersonal exchanges are the typical behaviour of Western society that David LaChapelle portrays with a pitiless and ironic gaze.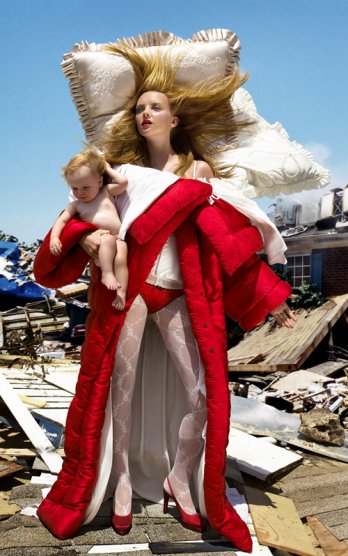 David Lachapelle/The House at the endof the world_2005
DESTRUCTION AND DISASTERS
This section gathers together a series of photos, shot at different periods of time, showing visions of the apocalypse or of destruction. Reality and imagination interweave in compositions of landscapes devastated by natural disasters or technological catastrophes, by the rapid spread of pandemics, and also by the blind fury of individuals against objects and persons.
DREAM EVOKES SURREALISM
A tendency to the oneiric, dreamlike dimension, and a deviation from reality characterize a large part of David LaChapelle's work, but this section gathers together some of his most overtly surreal images in which imagination unites with poetic paradox.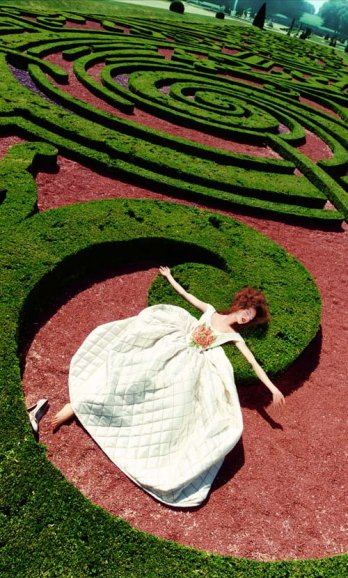 David Lachapelle/Collapse in a Garden_1995
PLASTIC PEOPLE
This section presents the passion for plastic surgery, bodybuilding, and any other kind of undertaking aimed at gaining physical perfection; a passion that in excess quite easily degenerates into an obsession.
EXCESS
This section presents, reinterpreted in a glamorous way, the vices and obsessions that afflict the brilliant world of famous celebrities. LaChapelle who, in his work, never expresses moralistic viewpoints, displays sexual fantasies and tendencies, exhibitionism and violent attitudes; he shows how excesses, whatever form they take, are closely related to the wish for self-assertion.