David LaChapelle
Retrospective
Gianni Mercurio + Fred Torres, February 9, 2009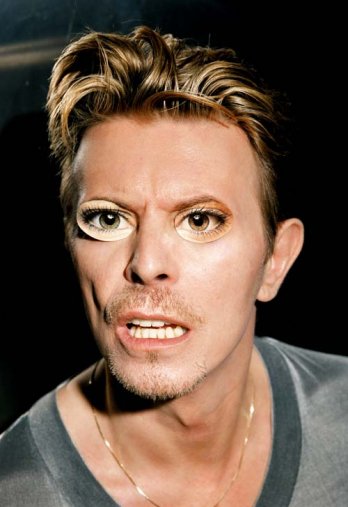 David Lachapelle/David Bowie_ Eyes that cannot see_1995
The exhibition is made possible by work of two excellent curators ; Gianni Mercurio has been the curator of some of the most important solo shows realized in Italy in the last years. A fine connois-seur of American Art, from the 60's to the contemporary, he was the curator of Andy Warhol Show, Keith Haring Show and the Jean-Michel Basquiat Show, a huge trilogy that took place at the Triennale Museum in Milan. In 1996 he founded and was the director of Chiostro del Bramante in Rome. Now Mercurio is the responsible of the exhibitions of the Carlo Bilotti Museum, where he presented the shows of Damien Hirst/Jenny Saville/ David Salle and Willem de Kooning. As a co-curator with Demetrio Paparoni, organized Eretica exhibition at the Galleria d'Arte Moderna in Palermo and Timer01 Intimacy at the Triennale Bovisa in Milan. Fred Torres co- curator has been an associate of David LaChapelle for fifteen years. Having started as the executive producer of LaChapelle's photo shoots, Torres is currently LaChapelle's art representative worldwide. He has been fundamental in developing exhibitions of LaChapelle's work at the Helmut Newton Foundation in Berlin; the Museum de Arte Latino Americano Buenos Aires and furthering the scope of LaChapelle's audience as an artist.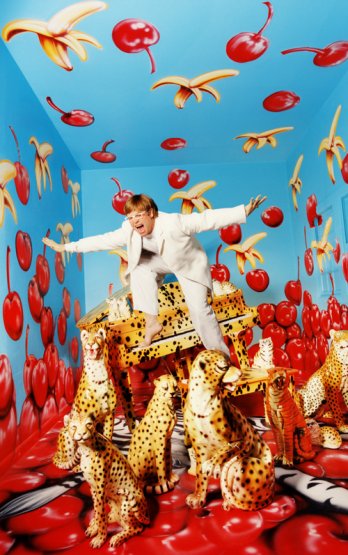 David Lachapelle/Elton John, Never Enough Never Enough_1997
DELUGE
The most recent works of David LaChapelle are exhibited in this section. Deluge, inspired by The Deluge painted by Michelangelo for the Sistine Chapel, is a criticism of the consumer race, the decline of such universal values as kindness and empathy, and the growing attachment to material goods. In Museum, the art system and the idea of art ownership is the object of LaChapelle's criticism; in Cathedral he denounces the loss of spiritual value and finally in the Awakened series LaChapelle affirms that the road to universal rebirth passes through individual destiny.
HEAVEN TO HELL
This section takes its title from the artist's latest book, published by Taschen, which concludes the trilogy that began with LaChapelle Land, 1996, and Hotel LaChapelle, 1999. It presents a series of three photos dealing with the theme of everyday death scenes in contrast to the most famous of all death scenes, the Pieta. LaChapelle portrays the death of an average man in the arms of an average woman in the position of this religious scene repeated countless times throughout in art history.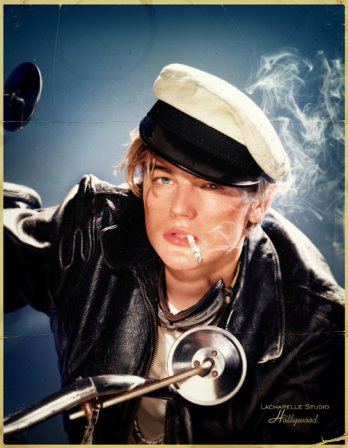 David Lachapelle/Leonardo DiCaprio_Nostalgic Styling_1996
MEDITATION
LaChapelle's preference for transcendent themes, such as the divine presence in everyday matters or the inevitable moment of our death, is well represented in this section, of which Jesus is My Homeboy and What Will You Wear When You Are Dead are a part.