Beatriz Milhazes
Natural forms + rigorous geometry
Linda Chenit, January 26, 2009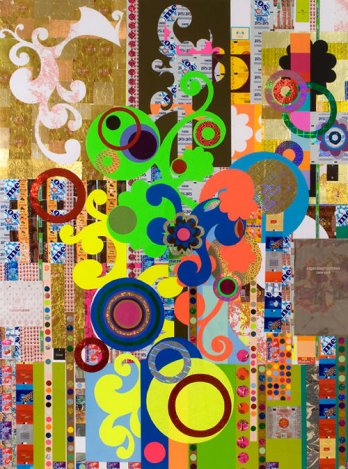 Beatriz Milhazes/Yogurt, 2008
The delicate arabesques of tropical flowers and leaves have also found their way into her painting, revealing the artist's fascination for luxurious vegetation. Other references for these works, which revisit the traditional genres of landscape and still-life, range from the contemplative works of Albert Eckhout - a 17
th
century Dutch painter who recorded the plants and animals of Brazil - to the modernist landscape designs of Roberto Burle Marx, known for his design of Copacabana beach promenade in 1970.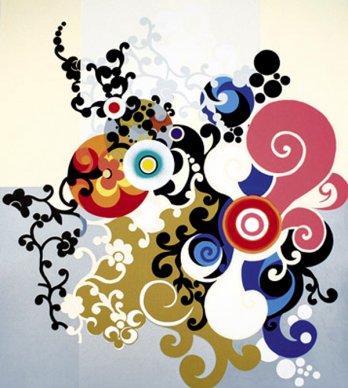 Beatriz Milhazes/Havai 2003
European Modernism
The paintings of Beatriz Milhazes express many of the formal preoccupations inherent in the history of abstract painting, from the vibrant color of Matisse to the rigorous structural composition of Mondrian. The underlying square fields of color that serve as the background for many of her works and the overlaying motifs, call to mind the work of early modernist abstract artists such as Kupka, Klee, and Léger. The artist has stated:
"I am seeking geometrical structures, but with freedom of form and imagery taken from different worlds.
" Classical music, particularly the opera, as well as popular music such as bossa nova or tropicalia, motivate the "choreographed spontaneity" of the artist's compositions. Stripes, rays, lines and circular forms evoke a synchronized rhythm while the dynamics of color articulate harmony and dissonance.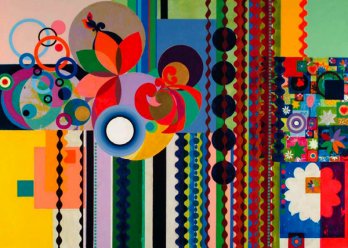 Beatriz Milhazes/Beatriz Milhazes
This clearly relates Milhazes compositions to those of other 20
th
century masters who have explored the relationship between music and art, such as Kandinsky and Delaunay. The use of intensely vibrant colors, such as fuchsia, gold or orange, endows her canvases with an explosive energy that many have compared to the breathtaking rhythm of fireworks.
Beatriz Milhazes/Ice Grape, 2008