Last Call for Planet Earth
Reflexions by Archi-World®
J.P., September 24, 2018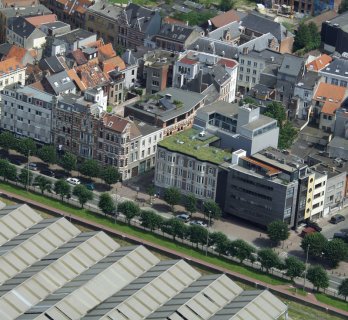 Last Call for Planet Earth_Archi-World®/Anvers
The concept of large glass spaces with an innovative design can be found in projects by Christoph Ingenhoven, focused on ecology and the sophisticated use of technology. His building for Lufthansa in Frankfurt is an exemplary project linking "High Tech" to "Low Energy". It offers 1,800 people workspace bathed in light. Straddled by a glass roof, the green areas allow the building to breathe whilst protecting it from the heat, the cold and noise.
With the new Milan fair in Rho Pero, which covers a surface area of 120 hectares, Massimiliano Fuksas redeveloped a section of the city. A huge glass blanket, supported by steel tree columns, undulates in a succession of hills and craters and protects a long footpath as well as independent architectural structures.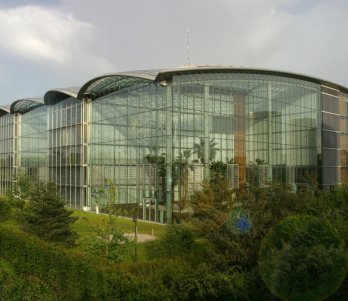 ast Call for Planet Earth_Archi-World®/Francfort_Luc Denis Delestinne
Today, confirms Thom Mayne, architecture is global. The American architect and 2005 Pritzker Prize winner today designs prestigious buildings resulting from a desire for sustainable development (buildings for the Caltrans transport company, Los Angeles 2004 or Federal Building in San Francisco, 2006). Backed by Governor Arnold Schwarzenegger, Thom Mayne was recently chosen to develop a zero energy school project.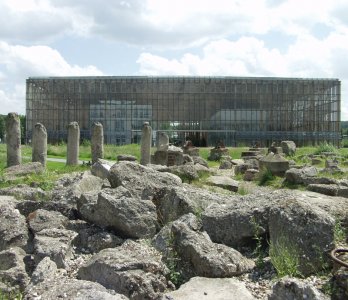 Last Call for Planet Earth_Archi-World®/Françoise Jourda.
Ivan Harbour, partner of Richard Rogers at the London agency of Rogers Stirk Harbour + Partners confirms that clean technologies are unavoidable today. The office participated actively in the development of passive design by using water, wind and sun. But it is through new technology that solutions to our planet's problems can be found. The prestigious RSH-P buildings are fitted with an electronic nervous system controlling heat, ventilation and all start-ups.
Last Call for Planet Earth_Archi-World®/Lerner
Examples from the East In the Far East, we chose two renowned architects who are total opposites of each other: Kengo Kuma and Qingyun Ma. The Japanese uses ancestral cultural tradition, which thoroughly blends architecture, nature and human beings. To him, it is in this triangle that he attempts to create new harmony. His projects favour the use of wood, bamboo, stone and even raw earth, which he applies along with new technologies. Evoking the issues specific to his country in full over-consumption, the Chinese on the other hand, is involved in megastructures that he tries to manage by taking into account environmental data, such as the Longyang residential complex in Shanghai with its 16 buildings covering an area of 185,000 m². For Thumb Island, also near Shanghai, Quingyun Ma designed a building in a park whose roof functions as a public garden.