Dolbeau-Mistassini Theatre
Theatrical setup of contemporary architecture
Nathalie Roy, Les points saisis + Paul Laurendeau, January 19, 2009
Paul Laurendeau_Jodoin Lamarre Pratte_architectes en consortium_Marc Gibert_adecom.ca
Architecture and theatricality
Inside the building, one space unveils another, forming a row of rooms, like a drawer of Chinese boxes pulled out towards oneself: the entrance leads to a hall that brings one to the foyer, an expansive black symmetrical space with large windows on its sides, facing tall enigmatic doors that are touched in gold. Beyond, in the heart of the building, the auditorium is the place of possibility... Doors barely open, the show already unfolds, revealing a vibrant red circular corridor. Within, the dramatic is at its peak: from damask to velvet, from red to black, to gold and glittering Swarovski crystal of the central chandelier. All evoke the magic of a show and remind us, under the circular gold sky, that time has stopped. Audrey Jobin confides: "
It's warm, it's soft. Inside, we are taken into another world..."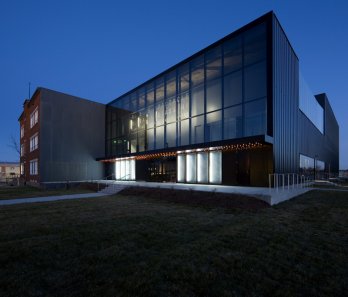 Paul Laurendeau_Jodoin Lamarre Pratte_architectes en consortium_Marc Gibert_adecom.ca
Paul Laurendeau shows an innate sense of theatricality. There is an exactitude in his bold statement when he affirms that architectural creation is flamboyant and intimate theatre:
"We created a cylindrical shape theatre with 2 shallow (2 rows) balconies, aligned one on the other, to avoid an important overhang to break the space (and interrupt the rhythm), because proximity between spectators and artists on stage is essential. Just as it is crucial that the public feels united, that union is essential in the space they share.
" It is as pleasure for performers to see this expression, as to feel close to their public.
Paul Laurendeau_Jodoin Lamarre Pratte_architectes en consortium_Marc Gibert_adecom.ca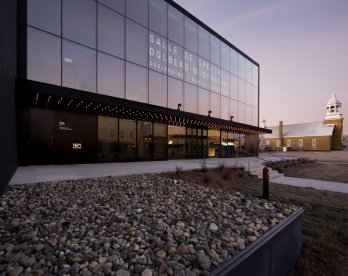 Paul Laurendeau_Jodoin Lamarre Pratte_architectes en consortium_Marc Gibert_adecom.ca