Lee Friedlander
-
Michel Frizot, October 6, 2006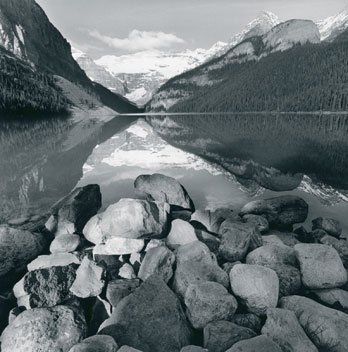 Lee Friedlander - Lake Louise, Canada, 2000
The 1990s and After
The survey of Friedlander's work of the 1980s concludes with two major projects - Nudes (completed in 1991) and Letters from the People (1993) - each of which took more than a decade to compile. The 1990s are introduced with four pairs of photographs. In each pair, one picture was made with a 35mm Leica, the camera Friedlander adopted for his personal work in 1955. The other was made with the square-format Hasselblad Superwide, whose negative (nearly four times as large as the Leica's) greatly enhances the richness and precision of the image. Perhaps still more important is the Hasselblad's unusually sharp and wide lens.
In the early 1990s, Friedlander's growing desire to photograph the landscape of the American West prompted him to try out the Hasselblad. Soon he adopted it for the full range of his work and, as the Leica-Hasselblad pairs make clear, all of his old problems were new again. Already seductively tactile, his crowded pictures became downright voluptuous, as the expansive lens invited the eye to explore under, over, and around his elaborate foregrounds and probe far into the distance.
He has deployed the new style in a diversity of projects, including a suite of self-portraits. Most impressive among the completed projects is
Sticks & Stones: Architectural America
(published in 2004), the latest chapter in Friedlander's uniquely vivid and far-reaching exploration of contemporary America.
Presented in depth for the first time in this exhibition are the results of the photographer's ongoing preoccupation with the grand natural landscape of the American West. These convoluted scenes, at once magisterial and bizarre, testify to the undiminished intensity of Friedlander's passion for looking and to the capacity of his art to infect others with that passion.
Lee Friedlander - California, 1997
Making Books
Books are ideal vehicles for the art of photography. The pictures generally are small in the first place, and the fixed sequence of pages allows the photographer to give lasting shape to a body of work.
At first, Friedlander had trouble interesting publishers in his work, but income from a 1969 portfolio that paired his photographs with etchings by Jim Dine gave him the chance to make his first book,
Self Portrait,
in 1970. He sought advice from friends, and the book was printed professionally, but he and his wife did everything else. Eventually, trade publishers relieved them of their cottage industry, but in every sense that matters Friedlander has remained the author of his books. So far he has made two dozen, which beautifully embody the full range of his work.