Erich Salomon
The King of the Indiscreet, 1928-1938
Naïs Elfassi, January 12, 2009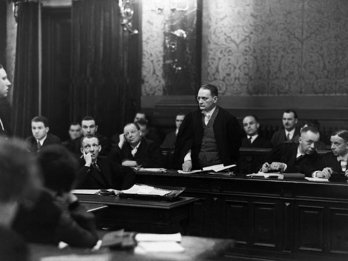 Erich Salomon/Erich Salomon_ Strafverteidiger Frey, Berlin 1929. Courtesy bdk Berlinische Galerie
For his contemporaries, the Salomon method represented an avant-garde approach to photography. His modernity also lay in his ability to use every available medium to disseminate his images. This fashionable man worked on a great variety of photographic commissions. He was even asked to take on film projects, although he did not have a proper chance to follow these up. He had two solo exhibitions in London, the first at the Royal Photographic Society in 1935, and the second at the Ilford Gallery in 1937 (the last section of this exhibition shows the set of prints made for the Ilford Gallery and now held by the Berlinische Galerie). In 1931, in Berlin, Salomon gave a talk entitled Mit Frack und Linse durch Politik und Gesellschaft [In Tails and with a Lens in the Political and Social World] to an audience of 400 politicians and celebrities. That same year he published Berühmte Zeitgenossen in unbewachten Augenblicken [Famous Contemporaries in Unguarded Moments, Engelhorn Verlag, Stuttgart]. Salomon presented himself as a "hunter" tracking down the true face of public figures. He detailed the exact circumstances in which his photographs were taken and described the best moments for getting snapshots that would avoid the frozen expressions of posed photography.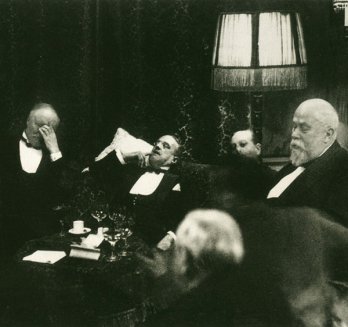 Erich Salomon/Erich Salomon. Conferencia de la Haya, 1930
When his book came out, Salomon was criticized for concerning himself only with his subjects' appearance. Nevertheless, his images are inseparable from the period and its historic events. The political figures he photographed were mainly democrats, men of peace in a world in crisis. In 1928, when he started his career as a photographer, the National Socialist Party was still only a minority formation. Two years later, it had become one of Germany's major political parties. When Hitler became Chancellor in 1933, Salomon went into exile in The Hague. His name was on the list of undesirable Jewish figures banned from publishing. He continued his career with Dutch magazines, but when the German army invaded the Netherlands he was forced into hiding by the anti-Semitic measures. Eventually he was denounced and deported to Auschwitz, where he died with his wife and younger son in 1944.
Erich Salomon/Erich Salomon_Jan Wils, 1935_Collection NAIWILS
With this project, the Jeu de Paume is inaugurating a cycle of three exhibitions at the Hôtel de Sully on the subject of European photography between the wars (already touched upon in the current Lee Miller retrospective at the Concorde site). The series covers three main areas: German photojournalism, as represented by Erich Salomon, avant-garde photography in Paris from 1920 to 1940, in the Christian Bouqueret collection, and, finally, war photography, through the work of Augustí Centelles during the Spanish Civil War.
www.jeudepaume.org
Erich Salomon