Cities: "living space"
Street furniture
Brice Tual, August 6, 2018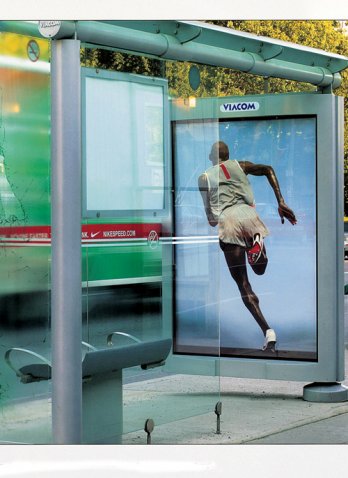 Viacom_Toronto_Canada
Ball lights, which used to be a must in the 1970s even though only 30% of the light they emitted was actually effective, still represent 11% of the total outdoor public lighting in France, according to the ADEME, the French energy-saving agency. Yves Feld, who directs the lighting department of ECOTRAL, a subsidiary of Electricité de Strasbourg, talks about the "right level of lighting". This is a subject for experts. "Light is important because it makes people feel safe, but you have to determine the correct amount of light, including how the human eye adapts to it. The amount of light needed in the evening can depend on a town's traffic system. If there is light-coloured concrete, it can reflect quite a lot of light." Most councils have never really thought very much about this type of criteria. It is not an easy task for the adviser to get a council to consider other parameters than their return on investment, especially since electric power is cheap in France. Although a return on better planning is clear after five to seven years in Germany, in France this is only the case after more than ten, longer than a councillor's term in office…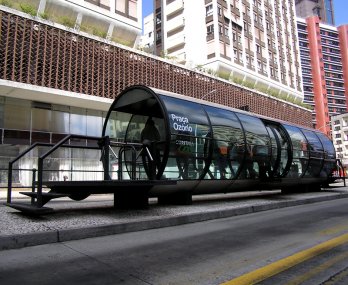 Mobilier Urbain/Bus Stops_Curitiba, Brazil
JCDecaux is the world leader in street furniture and has worked with about fifty different designers, many of them famous. They are experts on image as well as practical solutions. "We offer bus shelters that are fitted with recycling bins for batteries and glass. For the last two years, we have been installing hollow Morris columns so as to collect rainwater, which we then transfer for use in our cleaning vehicles," says Albert Asséraf, director general of strategy, research and marketing.
This furniture is dual-purpose, as are those facilities that are installed in natural areas that have to be protected from increasing numbers of visitors. "People have to be channelled; nature borrows from the strategies that have been developed to deal with flows of people in towns," Cécile Planchais comments.
"This type of equipment provides services and also adds to our quality of life," says Olivier Chadoin," but it can also help avoid disasters.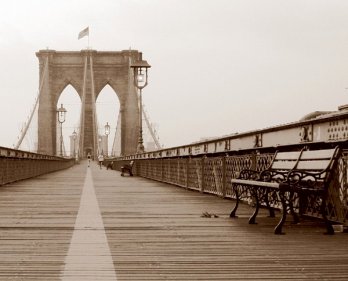 Mobilier Urbain/Brooklyn Bridge
First pioneered in the United States, situational prevention involves the use of furniture that dissuades people from staying in a place for too long and stops them from lying down. People can only sit down individually. Rest areas are always clear, so that social control is possible on a continuous basis. The principle can even be pushed as far as putting in plants that people can't get through or over."
Agadir in Morocco does not worry so much about such security questions, but the town did want to forge a global identity for itself. "This was part of the Azure plan to develop Moroccan tourism that was initiated by Kind Mohammed VI and the government," says Hicham Lahlou, the designer who designed and piloted the project. He is a graduate of the Académie Charpentier in Paris and chose to go back to his country to practise, where he is now seen as a pioneer. Street furniture, signs, harmonised shop fronts, coverings for vehicles… Overall, the project will take two years of design and execution, the latter in phases that, when added up, come to a total investment of one billion dirhams (87 million euros). This work at the scale of a whole town, which is unique in Morocco and possibly in Africa, could well be emulated by others. Tripoli (Libya) has just sought Marc Aurel's advice on how to boost its identity.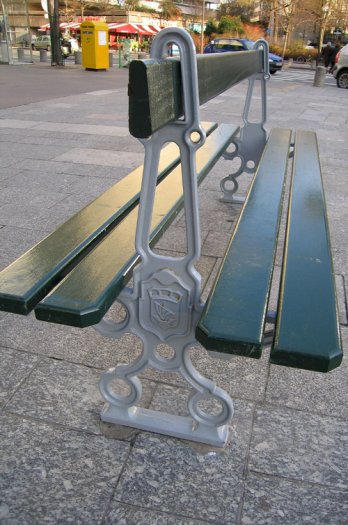 Mobilier Urbain/Mobilier urbain_Paris.
Further to the north, the new bench called "Space To Take Place" was inaugurated on 6th October 2008 on the shores of the IJsselmeer in the new IJburg area of Amsterdam. This product by Droog Design based on a design by Claudia Linders has two particularities: it is one hundred metres long, and it is jointly owned by a diverse international community. The Dutch Foreign Ministry dreamed it up and commissioned it so that, as it contains 100 virtual seating spaces, each could be an unusual diplomatic present! It's a nice way for each country to present a little piece of its territory! And of course everyone is invited to sit down and make the most of the pale Dutch sunshine.