Cities: "living space"
Street furniture
Brice Tual, August 6, 2018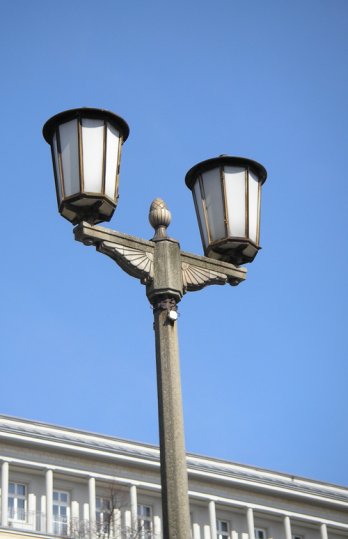 Mobilier Urbain/Reverbères_Berlin
She adapted this design to drinking fountains (08) that are due to be installed in January 2009. The aim was to provide access to drinking water "which sprays out for people to have a quick drink and falls back without splashing…" All passers-by are able to make use of these fountains because there is a place to drink from at the back that is at the right height for children and disabled people. Completely tailormade! These products are all meaningful and they were studied and developed with the Parisian water company from 2005 to 2008. Cécile Planchais is passionate about materials and doesn't agree that street furniture has to be discreet, as can be seen by the subtle shape of her polished stainless steel mirror bench.
It is not enough to think of street furniture only in terms of its aesthetic qualities. If they are to effective, solutions must also take account of the problems of our time. These may be sociological in nature, especially in terms of the flows of people and improving the quality of city life, for example by channelling these flows to make life more comfortable for pedestrians and users of public transport, and also improving waiting conditions.
They may also be practical to cope with new habits such as the boom in the use of bicycles, for which safe storage facilities are required. Recognising cultural diversity means that local identities and values can be explored and our cultural legacy can be highlighted through tourist walks. It is necessary to take environmental protection into account, whether this is by including it in the history and the décor of the town, integrating billboards and waste collection in a harmonious fashion, or promoting energy-saving measures.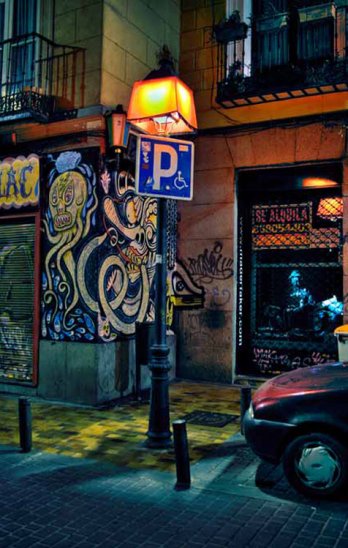 Mobilier Urbain/Luz Interruptus by Luzinterruptus
From now on, formal expression must combine practical and cultural functions. The role of the former is to provide a service; the latter provide meaning. Street furniture doesn't only attract designers; manufacturers are also getting into this market. After four generations of metallurgy, Buton Industries started to get into manufacturing equipment for public facilities in 1995, followed by street furniture. "We pioneered the use of wood-finish compact in France," Philippe Mandin-Diraison, the sales director, emphasises. "This material is made from recycled kraft paper and is long-lasting, easy to wash and impermeable to the inks used for graffiti." This company, which is based in Vendée in western France, likes to recruit young graduates from the Nantes Atlantique Design School. Nevertheless, "the ideal scenario is if you're dealing with a council that brings in its own ideas and has a well-defined project, sometimes because it wants to differentiate itself from a neighbouring council! Our structure, with fifty employees, allows us to do things other than just standardised products." Another new product they are starting to produce for councils are shelters for smokers. It contributes greatly to local employment, but the company is starting to be undercut by Chinese-made products. Local politicians find themselves at odds with their publicly stated objectives…
A desire for rational management is developing at the same time as this desire to provide people with an appealing and practical urban environment.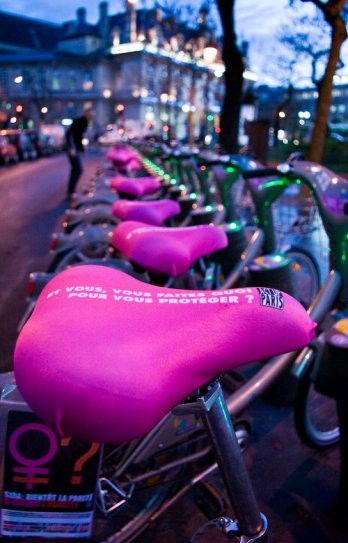 Mobilier Urbain/Vélib_France
One often finances the other. Angers has recently begun to build its first tramline, and this provides an ideal opportunity to take a good hard look at everything. Apart from redesigning the traffic system, the council also has to limit speculation with properties close to the line. "We are currently ordering special furniture designed by the tram project management team," says Pascal Gautier, the city architect. "We don't want to set off a process whereby designers just try and outdo each other; the furniture has to be discreet and useful. Rather than installing benches, we want to design amenities that people can also sit down on, as this is a crucial function. Granite and shale, besides being easy to maintain, have the advantage of being difficult to steal." The town has listed all the furniture that already exists and, at the same time, drawn up a charter of the city environment. The objective is clear: visually appealing items at less cost. There were 54 different types of bin up till now; only four of these will be kept as ones that have worn out are replaced. Ten years ago, there were eight different models of bike rack; now there is one. Solar-powered lighting has been used occasionally since last year "in places liable to flooding and in places where connecting to the grid is difficult." Lighting specialists and designers now also take part in town planning and try to encourage reasonable choices rather than some of the mistakes of the past.