Cities: "living space"
Street furniture
Brice Tual, August 6, 2018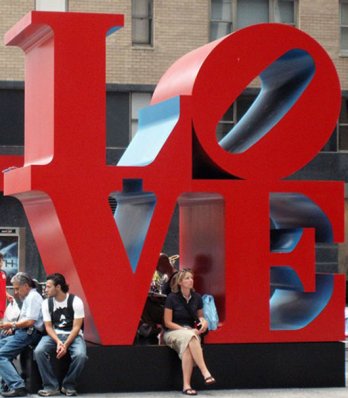 Love sculpture_New York.
The urban landscape seems always to have been a stage for an accumulation of more or less successful initiatives that have also often been limited to a small number of identical products. Jean-Claude Decaux put the idea to Lyons City Council in 1964 of installing free bus shelters and financing them entirely through advertising, and the idea quickly caught on. Paris adopted the same principle in 1972. France was riding on the wave of prosperity of the post-war years, and town planning was more than anything about adapting cities to cope with the boom in car ownership. Since 1967, courses in human and social sciences have formed part of architectural degrees. Nevertheless, the idea that there is a need to win back public spaces is a recent one. "Nowadays, there is less of a separation between how individual urban services are designed," says Olivier Chadoin. "A pedestrian can walk around close to a tramline without disrupting the traffic. It can be seen as a return to town planning in the 19th century when the wide avenues were places for people to take a stroll. What's even better is that empty spaces in cities are no longer regarded as spaces with a practical function, but rather as spaces where people can meet." Urban design is generating a virtuous circle in which all kinds of professionals are involved. "It is not a question of simply choosing something from a furniture catalogue; now it's about creating a sense of well-being. This involves architects, designers, engineers, landscape architects, lighting designers and even specialists in acoustics.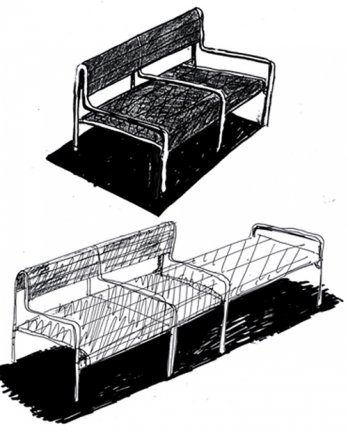 Mobilier Urbain/M.A Studio
Making the most of a city (and also, in the long term, contributing to higher house prices) depends on these interdisciplinary teams."
The architect Marc Aurel confirms that the attention that is now being paid to urban facilities is a relatively recent phenomenon. "It's pretty much by chance that I now specialise in urban design. I was working in Jean-Michel Wilmotte's office in 1989 when he was commissioned to design street furniture for Lyons, and I was put in charge of the project. When I opened a catalogue, there were only a very few products! We started with a blank page and we dreamed up everything ourselves!" This obviously became his vocation, because he now has his own agency - M.A. Studio - dedicated to urban design and works with ten people with a range of different talents: town planners, engineers, product designers (some of them trained abroad), artists, etc. He says that the different viewpoints they bring to a project are crucial. He admits that he is more interested in looking for materials more than shapes for public spaces where repetition leads to a certain humility in design. When he designed the street furniture for Paris, it had to have a link to what existed already as well as being light and vandal-proof. Designing this range brought him to people's attention. It is always a balancing act as can be seen from his 3EI Indalux lights for the Ikone range that were designed for use in problem areas of town. The terms of reference stated that the furniture should make the most of the site whilst also preventing vandalism using ad hoc structures. The agency is developing furniture for tram stations for the RATP with the aim of fitting it into the built environment, adapting it to each platform and protecting the people using the tram.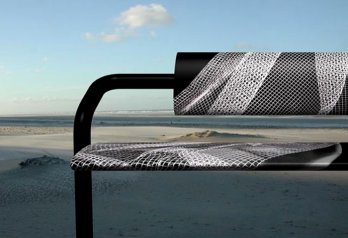 Mobilier Urbain/Fontaine à boire, création Cécile Planchais
Street furniture does have a very particular status. "The question of who owns it is not easy to answer; it is an object that you share and that you are subjected to whereas you choose most other products yourself," comments Noé Noviant. The young designer has been interested in this question ever since the beginning of his studies at the School of Decorative Arts in Reims. His concept for a chair called "Bougez les meubles" (Move the furniture/Shake things up) for use in urban spaces won a VIA Call for Projects in 2007. He is currently working on a project for temporary furniture used for council events - a festival for example.
The creativity of designers does not seem to be shackled by products being intended for public use. Indeed the opposite is true… Alexandre Moronnoz, who graduated from the Higher National School of Industrial Design/ Les Ateliers provides a novel solution in terms of materials (retified wood) and form (modular elements allowing many different combinations) with her "Y" chair. This furniture for parks and gardens won a VIA Project Grant in 2006.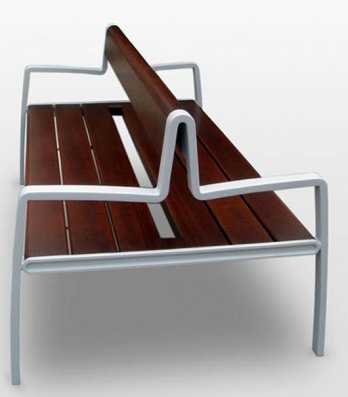 Mobilier Urbain/M.A Studio
Originally a sculptor, Cécile Planchais gravitated towards design after spending some time in textile painting… Over time, she became involved in town planning. She initiated a 12-year project at Fort Mahon in the Somme (06) and another one in La Baule. To work with councils, one obviously has to be flexible and pragmatic. "This means that you have to concentrate on the strength of the design: doing more with less!" she says with a smile. "The aim is to design products that will last for thirty years and are therefore completely out of synch with our modern consumer society." It is clear that the task is a delicate one, but such projects are hugely inspiring. In her work with the two seaside resorts, she was intent on designing lines that included furniture, lighting and signposts "to bind the town together". Over time, these designs became standards lines that could be marketed: Aldus with GHM in 2004, and Alde in 2008. Cécile Planchais has also developed a design concept that takes the form of kiosks and half-seated/half-standing posts to make it more comfortable for people with reduced mobility to wait at crossroads. Parisian markets are also indebted to her for their 200 hydrants that provide drinking water to wash and spray the stalls.