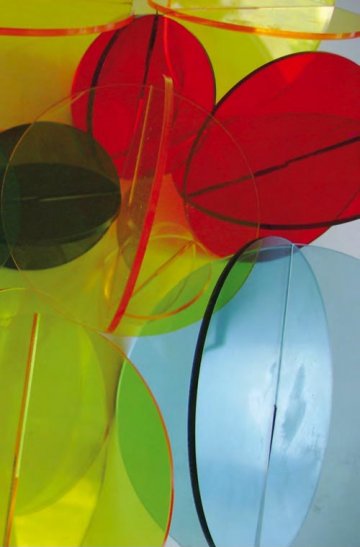 DAMIÁN ORTEGA
CHAMP DE VISION
D.B., December 15, 2008
Born in Mexico City in 1967, Damian Ortega is the first Latin American artist to show in Espace 315. Having first attracted widespread attention at the 50th Venice Biennale of 2003 with his Cosmic Thing, a Volkswagen Beetle dismantled and suspended from the ceiling – an ironic deconstruction of one of the cult objects of consumer society – he is now one of the best-known members of the rising generation of Mexican artists. Ortega began his career drawing political cartoons and his work is always marked by a certain acerbic playfulness. With irreverent eye, he parodies the purity of Minimalist sculpture. His sculptures, photographs and action pieces, which often make use of commonplace objects, suggest potential for development and perpetual change. A certain scepticism regarding the utopian forms of Modernist architecture and a distinct fondess for language games are also central to his work.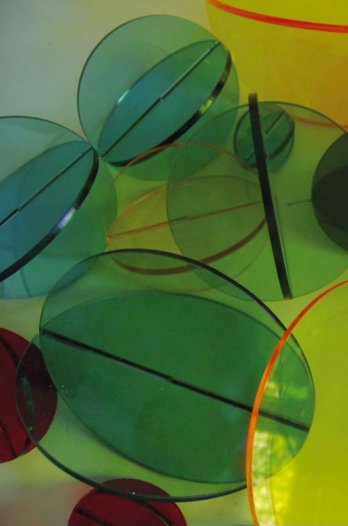 Damian Ortega/Damian Ortega_Champ de vision
The installation Champ de Vision (Field of Vision) specially conceived for the Espace 315 is in keeping with other works that deal with the question of visual perception, such as Circular Perception, 1999. At the exhibition entrance, the groups of molecules that constitute known matter are presented in the form of a large pencil drawing. The visitor then enters a space of almost 200m2 to discover an installation of Plexiglas modules – each composed of two circles slotted together to form a sphere – in different colours and sizes, which hang from the ceiling, following a projection on the ground of a long triangle tapering out towards the rear of the room.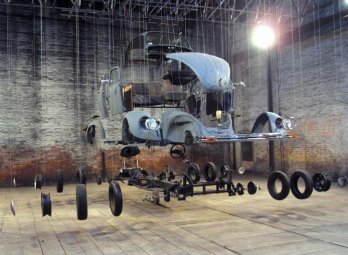 Damian Ortega/Damian Ortega _Guzman
The spaces created between each row of modules allow the visitor to walk about inside the installation. In this way, he or she is immersed in an environment similar to that of the chemical molecules presented at the entrance, as if matter had been pulled out on a gigantic scale. The visitor is then invited to walk behind a wall that reveals a tiny opening at its centre. The hole is fitted with a lens, which allows him to look back at what he has just walked through. In the viewer's eye the image of an eye is created, composed of a group of modules which at this distance form coloured pixels. This ingenious feat confronts the viewer with the tool of his perception and the question of the view point itself.