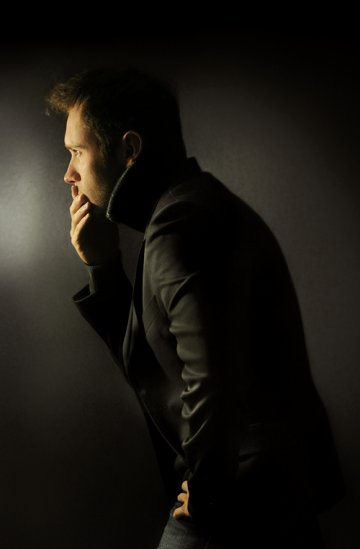 Cyrille Druart
I-WAY
C.D.D., November 10, 2008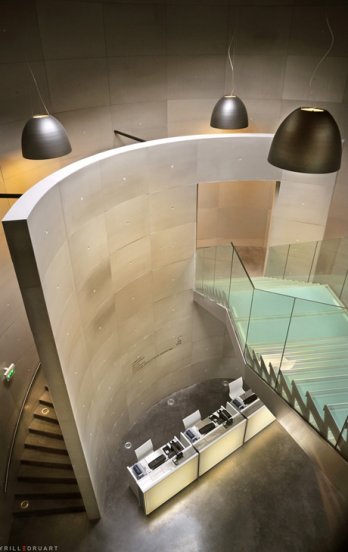 Cyrille Druart_I-WAY
Inaugurated in July 2008 in Lyon, France,
I-WAY
is an international first. This exclusive building is entirely dedicated to automobile simulations (simulator technology offering 6 degrees of freedom inspired by the aeronautics industry), providing the public with access for the first time to eighteen machines. Organised around 3 simulation zones (Formula 1, Endurance, Rally/Touring), the complex also includes numerous upscale areas for a global experience: fitness room, alcohol-free bar, bar/restaurant lounge with terraces, two conference rooms, meetings rooms and offices. Design and construction of I-WAY took 4 years, from an encounter with the project's developer, to the recent opening of the building.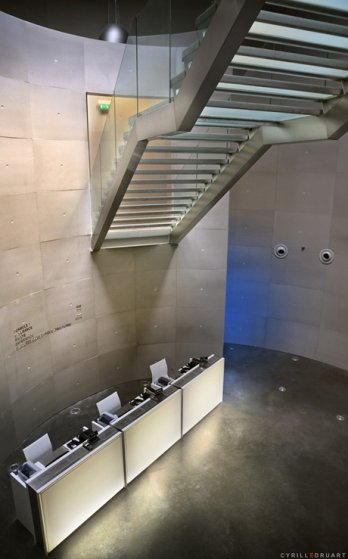 Cyrille Druart_I-WAY
The building has 3 levels. The main entrance is on the ground floor. The hall leads directly to the second floor via two glass lifts or a monumental glass staircase. Completely built in concrete, the entrance –a cylinder measuring 11 meters in diameter and 11 meters tall –contrasts with the ethereal staircase that sweeps across it. Once at the top, the visitor is enveloped in a softly lit environment and has access to several spaces. . Shop: an international first, the I-WAY shop is made of carbon fibre, Corian and concrete. It offers luxury products from ranges such as Porsche Design, Tag Heuer, Sparco and Equipaggiamenti. . White Bar: the ten-metre Corian bar offers alcohol-free beverages such as cocktails and fruit juice... Lounge bar: the bar consists in a 4-metre truncated cone in black Corian and a lounge/restaurant offering gourmet food. Two partially open garden terraces are also available year round. . Conference rooms: featuring black Corian, white furniture and natural lighting, these rooms allow compa¬nies to organise seminars related to the simulators and driving in general. The rest of the mezzanine overlooks the simulation areas located on the lower level.