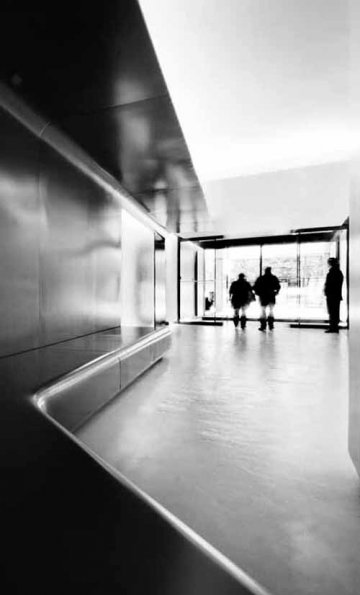 The Hotel PUR
Simplicity + balance
J.P., August 25, 2008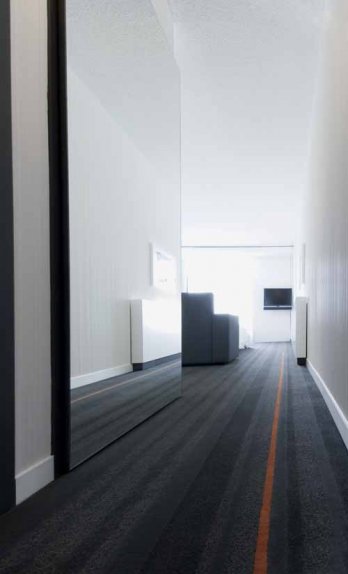 Hotel Pur_Bisson-associés
After months of refurbishment spearheaded by the firm bisson | associés, Hotel PUR opened its doors last May in a renovated building from the St-Roch neighbourhood in Québec City. The metamorphosis that has taken place is rooted in simplicity, elegance and refinement in terms of space, materials and lighting. The new Hotel PUR is a large-scale operation and offers more than 220 lengthy rooms, all of which give on to the city. The revitalization of the hotel, owned by the Willow Hotels group, emphasises the lines of the original concrete exterior. The urban lifestyle of the environment constitutes the main backdrop experienced by those staying at the hotel, an atmosphere that changes according to the room, the time of day or night, the season and so on.
Hotel Pur_Bisson-associés
The architecture and interior design of the building are minimalist, comfortable and sensual, going hand in hand with the ever-changing face of this generous city. The two volumes that make up the building have been completely restored from the outside. The architect, Jonathan Bisson, explains, "we stabilised the concrete exterior and replaced the original windows while maintaining the 1970s personality of the facade. This did not affect the overall balance of the building and highlighted its contemporary outline." The 18-storey tower also features a basilaire that has been revamped in accordance with the atmosphere of the existing forms and draped with a large-scale curtain wall. The new glass walls at the end of each room enable more untrammelled interaction between rooms and the urban environment on to which they look down.
Hotel Pur_Bisson-associés
Another fine example of spatial manipulation is afforded by the layout of the hotel lobby, the original dimensions of which have been reduced to a smaller, more intimate scale with a view to orientating guests directly towards the reception area. Within this white, minimalist area, a sculpted bench in worked, formed steel - the signature theme of the hotel - not only guides guests towards the reception desk but also screens the lounge-cafe area and provides a partition for the baggage racks. Indeed the choice of furniture as a whole stems from this artistic and functional design.