Frank Tjepkema + Janneke Hooymans
The duo beyond Heineken The City
D.A., August 18, 2008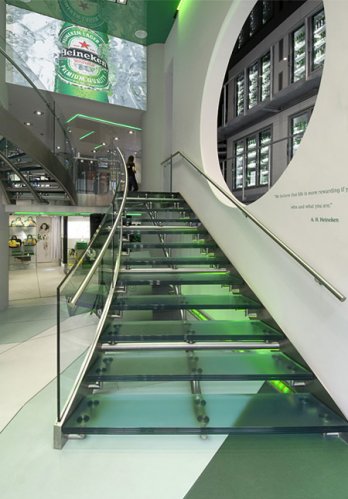 Heineken The City by Frank Tjepkema et Janneke Hooymans_Tjep
Heineken, The City

What do you do when Heineken asks you to design their first shop? Do you place furniture and displays into a given space? We thought it would be rather more appropriate to pour furniture into the six monumental buildings located in the heart of Amsterdam, as if we were filling a cold fresh glass of Xtra cold Heineken. This concept translates into displays that evolve seamlessly from the floors to the walls and ceilings in abstract dynamic wave movements. The idea of coldness is consequently applied through the whole shop design including the lighting which is 100% LED based (the first in Europe).
Heineken The City by Frank Tjepkema et Janneke Hooymans_Tjep
You will also find a three story high fridge (possibly another record) containing all the Heineken bottles from different markets around the world. Alongside the fridge an ice crystal evolves along the wall containing over 600 Heineken bottles. When you enter the shop you feel a cool breeze coming from the logo written in real ice on a metal wall (yet another a novelty). The central space features a monumental glass staircase, the material choice throughout the shop constantly supporting a sense of coolness. The floors are made of a new product developed by Senso which features an abstract graphic representation of ice cracks and a large watermark. The cashing desks are sculptural crystal shapes.
Heineken The City by Frank Tjepkema et Janneke Hooymans_Tjep