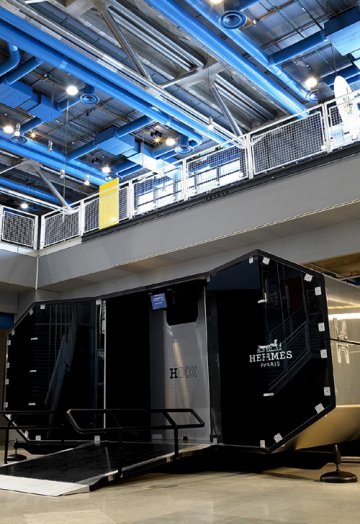 H BOX
H as Hermès
Muda L., July 14, 2008
H_Box_Hermès_Andres Lejona
H Box
is a mobile screening room showing the work of eight video artists. H Box was designed by artist and architect Didier Fiuza Faustino, while Benjamin Weil, executive director of Artists Space, New York, acts as artistic director of the project. The 6.5 by 5 metre unit, designed to accommodate 10 viewers at a time, shows works by artists from different countries and cultures. Alice Anderson, Yael Bartana, Sebastian Diaz Morales, Dora Garcia, Judith Kurtág, Valérie Mréjen, Shahryar Nashat and Su-Mei Tse are the first whose works are presented to the public in this way. Every year, four new artists join the programme as four others give up their place.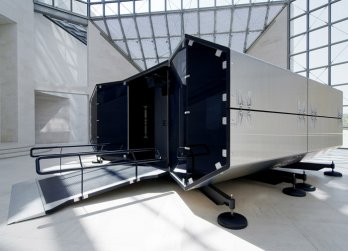 H_Box_Hermès_Andres Lejona
For this project, one element in Hermès long-established programme of support to artistic production, video was an obvious choice. Easily transportable and simple to work with, video is an art of movement.
H Box
will travel the world, in search of new audiences and new visions. Architecturally inventive and completely demountable,
H Box
is fitted with the latest in audio-visual technologies including an aluminium and Plexiglas screen offering irreproachable sound and image quality. A first presentation of
H Box
was held at the Centre Pompidou in Paris and a second at Musac, Museo de Arte Contemporáneo de Castilla y León (Spain). After its presentation in Mudam,
H Box
, now in Tate Modern, will move on to Yokohama Triennale in Japan, as well as to other exhibition spaces all around the world.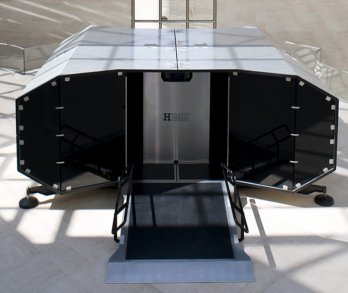 H_Box_Hermès_Andres Lejona