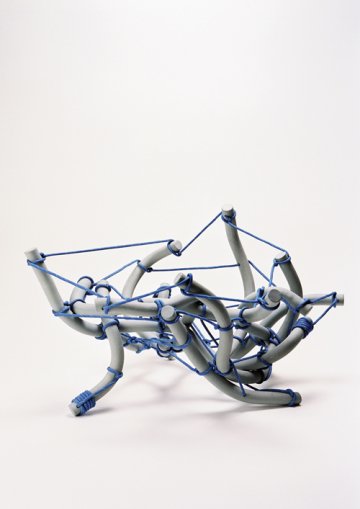 Voices
Contemporary ceramic design from Sweden
Sara Danius + Patrick Johansson, June 2, 2008
Voices
is an exhibition of work by ten pioneering Swedish ceramic artists. In curating this exhibition, Inger Molin* has chosen ceramic artists from different generations and with very different voices and approaches to their work. What they have in common are that they are natural representatives - and leading exponents - of the dynamism and originality of contemporary ceramic art. Viewed together they enable us to discern something unique about the contemporary development of ceramics in Sweden. Free in their relationship to traditional ceramic art they seek new directions and emphasize freedom of expression. No longer is it the material that is important; but what the ceramic artist has to say. Frida Fjellman, Renata Francescon, Eva Hild, Pontus Lindvall, Mårten Medbo, AnnaSofia Mååg, Gustaf Nordenskiöld, Kjell Rylander, Per B Sundberg and Kenneth Williamsson - their work has been enthusiastically received both at home and abroad. The artists contributing their voices to the exhibition work sculpturally and conceptually, addressing existential issues with humour or as abstractions. Their various approaches and modes of expression are presented in the book Voices, published by Carlsson Bokförlag, with an incisive essay by Sara Danius and Patrik Johansson's evocative photographs.
Link_Kjell Rylander, 2005_Porcelain_Patrick Johansson
Take some coils of porcelain clay, fire them in a kiln and tie them together with lengths of orange climbing rope. What is the result ? A ceramic object signed Gustaf Nordenskiöld. The work, from 2004, is entitled "Klyka". With al little goodwill, the object can be seen as a sort of basket. One might readily place it on the living-room table and fill it with mandarin oranges. This is what we are given. But there is something else, too : a snapshot of Swedish craft art today. It is only something with the strength of a climbing rope that can possibly hold contemporary ceramics together. Today ceramics wants to go in all directions. It wants to be sculpture, poetry, happening, installations, communication, revolution. And there is basically nothing that can restrain these urges.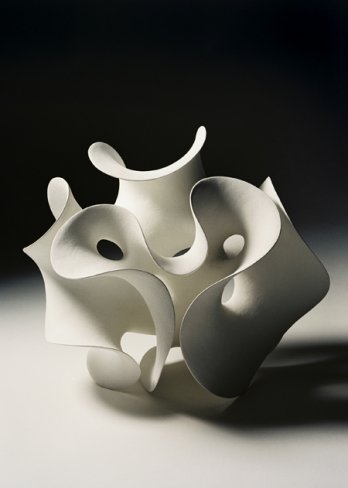 Form_Eva Hild, 2006_Stoneware_Patrick Johansson
When did this happen ? It is difficult to say exactly. But about a decade ago the banks burst. The vessel-form ceased to be mandatory in ceramics. Producing containers was pushed into the shade. Clay became one material among many others. Craft art began to reflect on its nature and it set out to transgress the boundaries of art. Today it is virtually impossible to determine where craft art ends and art begins. Or, differently put : contemporary craft art has been so successful in crossing borders that concepts like art, handicrafts, craft arts and design are under greater pressure today than ever before.
Two main currents are evident. On the one hand a late-modernist current making itself felt. It finds expression in a sculptural type of art, ranging from an austere, controlled and abstracted organic style to a more naturalistic, concrete mode of expression. This is a daring sculptural operation that emphasizes the expressive possibilities inherent in clay. The clay is often fired though not always. At any rate, the material becomes the bearer of a remarkable range of expression that sculpts empty space in a new manner. The desire to create on an architectonic scale exists side by side with a powerful sensuality. Ceramists can equally well be categorized as sculptors.