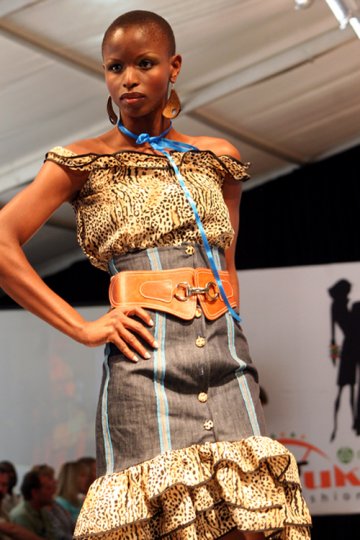 New young african designers
Old Mutual Vukani Fashion Awards 08
Judy Bryant, May 26, 2008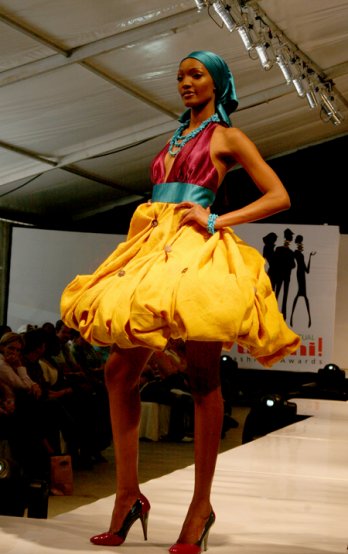 Natasha Morais dress
"The awards provide a platform for the young designers to showcase their talents," said South African Fashion Designers Agency Executive President Sonwabile Ndamase, who founded the awards with the encouragement of his most famous client, Nelson Mandela, who wears his iconic shirts. The Old Mutual Vukani! Fashion Awards, now in its 14th year, is South Africa's premier platform for the empowerment of our country's young and emerging designers. The awards also have another component, the African Pride Award, through which we promote an indigenous and afro-centric expression using some of the continent's role models. Previous recipients of the African Pride Award include Pan African Parliament President Dr. Gertrude Mongella, MP, Ms. Winnie Nomzamo Madikizela Mandela and world-renowned singer Miriam Makeba.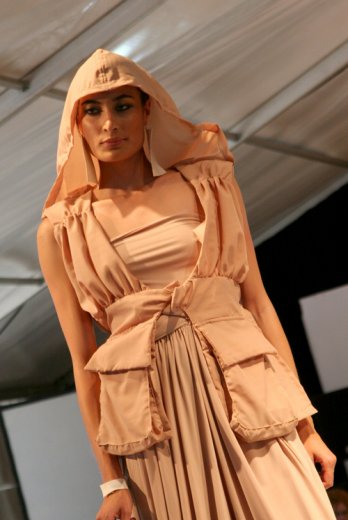 Peggy Magasela Clothing
A Cape Town student, 20-year-old Karin Hoffman, has just sewn up one of South Africa's most prestigious fashion awards. Hoffman, who lives in Rondebosch and is in her final year at the Elizabeth Galloway Academy of Fashion Design, won the overall prize in the 14th annual Old Mutual Vukani Fashion Awards held in Pretoria this weekend. She also took the honours for the best clothing collection.
The most innovative designer is Natasha de Morais, a 23-year-old Pretoria resident who already runs her own business making women's evening wear and bridal outfits. The best high fashion design prize went to Tozama Nandipha Dyantyi from Sea Point who's in her second year BA Fashion Design at the Future Excellence Design Institute of SA (Fedisa) in Cape Town.
The three winners will enjoy formal business mentoring for a year - worth R12000 each - and Hoffman also takes home R18000 worth of sewing equipment to set up her own business.
"I'm very excited about the future because winning this prize affirms I'm on the right track," said Hoffman. "I would like to do more shows and really want to make the best use of this award."